Xcaret theme parks offer exciting adventures ranging from cultural immersion to unique outdoor activities. Choosing which park to visit depends on your budget and interests. But you are guaranteed a great time no matter the theme park you select. People enjoy zip lining, snorkelling, white water rafting, underground river exploration, and monster truck challenges, among other things. Do not forget to sample some of the most elevated Mexican cuisines there. There are about eight Xcaret parks to choose from. These four are the best ones you shouldn't miss out on.
Xcaret Park is one of the most popular destinations in Riviera Maya. It combines a nature and water park, which makes it convenient for people who enjoy outdoor activities. If you want to get in close contact with nature, the coral reef aquarium and the underground river have you covered. There is also cave exploration and snorkelling. Immerse yourself in Mexican cultural tradition as you explore the unforgettable park. There are over fifty attractions to go over. Book and purchase your tickets early, so you don't have to wait until you arrive. You can get a basic or all-inclusive trip depending on the activities you want to access.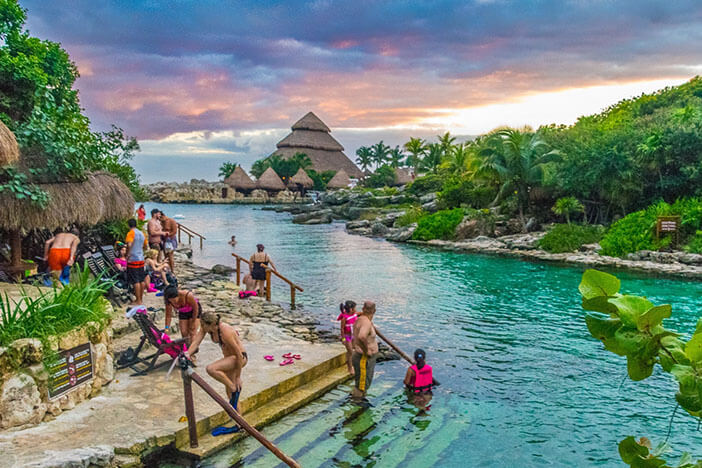 Xel Ha means 'where water is born' in Mayan. This park is all about exploring jungle paths and marine life. Thrill-seekers enjoy the tallest waterslides in Riviera Maya, zip lines, and jumping into the clear waters from the Stone of Valor. One great thing about visiting this all-inclusive park is that the open bar and buffet are included in the experience. Take your bike on the jungle paths and experience the park's natural wonders. An inlet flows into the Caribbean Sea, where you can enjoy unlimited snorkelling. It's smaller than Xcaret Park but still fascinating and easier to navigate.
This zip line park is at the heart of the jungle. Sliding down the mind-blowing zip lines will be the highlight of your trip. But you can also ride amphibious vehicles through the enticing jungle. You are free to choose your route. The jungle is ready to deliver if you want a smooth ride or some fun obstacles. Exploring the underground rivers is also full of adventure. The jungle paths will give you incredible views of the park and nature. Strolling through the caverns can be an exciting way to spend time at the park. There are unlimited things to do once you get to Xplor!
Xplor Fuego Park has the highest zip line in Riviera Maya. All the seven zip lines available offer an adrenaline-filled experience when you want to explore the park from above the ground. There are amphibious vehicles you can use to explore the jungle as well. Take a raft to the caverns to explore the underground rivers. An all-inclusive trip would be best, especially when visiting with the family. The place is equally exciting at night, with fun activities and unlimited non-alcoholic beverages.
Xcaret theme parks probably make Riviera Maya one of the most visited destinations. These parks offer lots of adventure that sometimes confuses new visitors. This quick guide should tell you what to expect and the parks to start with. Plan for the activities early to make your stay more fun and adventurous.