You can have treats even if you are on a Keto diet. These Keto Blueberry Muffins are an example. In case you don't really know what a keto diet is, we will tell you here. Nowadays, you probably hear about this diet at least once, and this is because it's actually very effective. Unlike other diets, keto centers on fat, which is weird if you are on a diet.
At first, this diet was used to help reduce epileptic seizures; however, you can actually lose weight with it. However, even if it's an internet favorite, you probably won't know any recipe that fits the diet. Or at least, you won't say any sweet recipe; this is why we looked for you and came across this one.
What is a keto diet?
The ketogenic diet is a very low-carb, high-fat diet that is similar to other famous low-carb diets. However, in this case, you won't replace the carbs with vegetables or the likes; you will replace them with fat. By doing this, your body will enter a metabolic state called ketosis, making you lose weight.
In this state, your body will be highly efficient at burning fat and producing energy instead. Your liver will also do a lot of work turning fat into ketones, which will supply power to your brain. Another benefit you will get is a drastic reduction of blood sugar and insulin levels. There is currently a great demand for keto foods. We recommend you to visit Ocado, they have an incredible section of products that you can add to your keto diet. From fruits to Keto chocolate, Ocado has so many amazing products to choose from for this diet, and the best thing is that they have a specific category for everything Keto, how cool!
But, if you are looking not only to buy Keto products but also to prepare some recipes, we leave you with this delicious Muffins option. Keto Blueberry Muffins doesn't sound keto, right? Well, they are, and we will show you.
How does the keto diet work?
Basically, the keto diet forces your body to use ketones instead of the energy you get from sugar. All the ketones are produced in the liver, so you will rely on in while you are on this diet. This isn't harmful to your body, but there aren't any conclusive studies that tell us if it's good or bad. Anyways, thanks to this, you will burn fat fast.
Reaching the perfect ketosis state is very tricky because you can't have any carbs; this is why you can't eat treats. Even though it's a great way to burn fat, you should be careful with a few things. For example, you should watch the amount of fat and carbs you consume. If you want a dessert, you could only eat keto blueberry muffins or another special keto recipe.
What can you eat?
Mainly, you can eat fat and proteins, and you must eat those two with every meal. The exact ratio of food will depend on your needs, but we have an approximate idea. In a 2,000 calories diet, you should eat 165 grams of fat, 40 grams of carbs, and 75 grams of proteins. This isn't an exact measurement, so we recommend you go to a nutritionist.
On the bright side, you can eat saturated fat as long as they don't include carbs, like these keto blueberry muffins. On the other hand, you should eat unsaturated fats, like nuts, avocado, tofu, or seed, mentioning a few. The diet encourages more than the first ones, so you can feel free to use lard, butter, and oils of any kind. In other words, you can deep-fry everything.
Protein-wise, you can eat every high-fat protein you can imagine, like pork, beef, and bacon. If this isn't good enough, you can also avoid most of the vegetables that exist because they are high in carbs. You can only eat leafy green vegetables like broccoli, onions, garlic, mushrooms, cucumber, celery, kale, spinach, etc.
How to make Keto Blueberry Muffins?
If you read this carefully enough, you can picture why you need to make a special dessert recipe. If you didn't, these keto blueberry muffins are carbs-free, so they don't have any flour. Also, the berries don't really have any carbs, so you are free to use any kind of berry you want.
This is also a gluten-free recipe, so you can prepare this for a celiac friend and share it. So, get ready, grab a bowl large enough and prepare yourself to make some of the best muffins you have ever taste.
Ingredients
2 1/2 cups of almond flour.
1/3 cup of your favourite sweetener. We recommend you use Swerve.
1/2 tablespoon of baking powder.
1/3 cups of unsweetened almond milk.
1/2 tablespoon Sea Salt.
3 large eggs.
2/3 cups of fresh blueberries. You could use any berry if you want to.
The zest of 1/2 lemon.
Preparation
This keto blueberry muffins preparation technique is very straightforward and is very well known. First, you need to mix all the dry ingredients in one bowl. Try to mix them well, so you won't have any lumps. Then, combine all the wet ingredients in another bowl. At this point, you could preheat the oven at 180° C.
While you wait for your oven to reach the ideal temperature, line a 12-cup muffin with cupcakes liners. Now, you need to combine the wet ingredients with the dry ones and not leave any lump in the mix. Lastly, gently fold the blueberries and the lemon zest in the mixture. Try to distribute the blueberries in the evenest way possible, so every bite has blueberries.
With an ice-cream scoop or a spoon, try to scoop an equal amount of berries into each cupcake liner. If you do this right, every muffin will be ready at the same time. Bake them until they are slightly golden or until you can insert a toothpick in their center and come out clean. However, after 23 minutes, they should be ready. Let them cool a little and serve.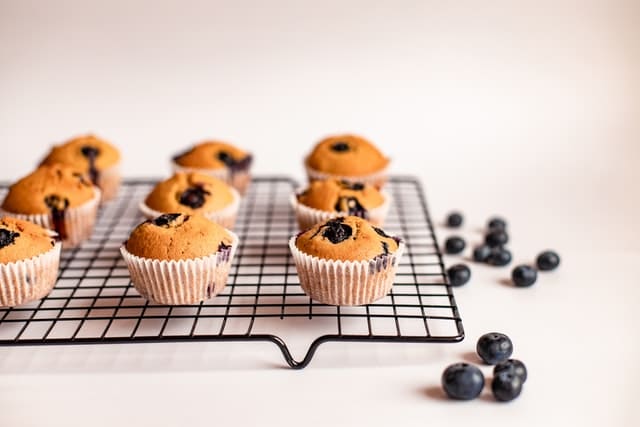 What can I use if I'm allergic to nuts?
Several flours can replace almond flour. If you can eat this one, you can try a sunflower seed meal. That is just ground sunflowers seeds, but they are pretty good, and the result is almost the same. However, the muffins will be green instead of golden, so keep that in mind. Anyways, in case you want to prepare more recipes the might be better if you have an allergy, you should try these.