Maybe you walk in the grocery store and see jam and jelly next to each other and you don't see any difference. Many recipes say you can use one or the other, and when you spread them, is the same. Well, there are differences and we were surprised too when we find them out before writing this article for you.
Even though they both use fruits, they have their unique benefits then set them apart. We will teach you which are these differences, and how to make both. Prepare your kitchen and be ready to save some sweet treats on your fridge.
What is Jam?
Jam is a preparation made from chopped or pureed fruit and sugar. You reduce this combination until is spreadable but firm. In this case, things like seeds and skin might be on the mix but the flavor is stronger and fruitier than any other similar preparation because it's very pure. However, some people might find its texture unpleasant.
What is Jelly?
On the other hand, Jam and Jelly have different preparation. Jelly is made with fruit juice, sugar, and pectin. You need to combine everything and reduce the combination as well, but the texture is quite different. Jelly is a bit firm and is much smoother than jam or other similar products. This is why many people prefer this over anything else.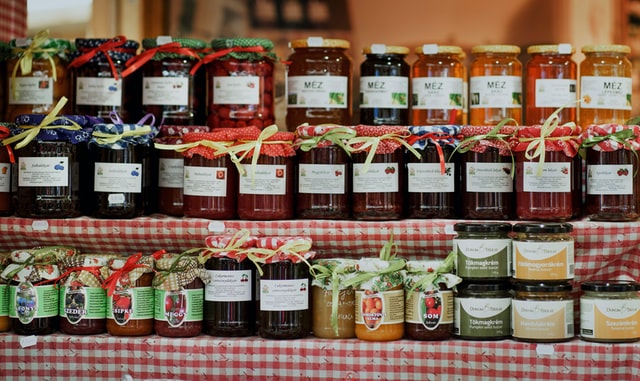 What are the differences between jam and jelly?
We already mentioned the main difference, the pectin, yet of course, there is more to this than just that. The textures and the concentration of fruit are very different, which makes the consistency one of the main differences. This is because of the pectin in the jelly, and we will dig deeper into this matter.
Pectin is a type of edible fiber; develop by some plants and fruits. People use it to make gelatin or in recipes that need a firm texture. You can find it like a flavorless gel, this way is easier to use it. A lot of fruit and vegetable-based products need pectin to be able to become spreadable, like jelly.
Jam develops its texture because the bigger chunks of fruits help it to gain consistency. Jelly on the other hand has the fruit in a more liquid form, which means it won't gain texture on its own. You could reduce it and wait for the sugar to help it, but you will need a lot of both sugar and juice. This is mostly why jam and jelly aren't the same but you can learn more here.
Homemade jam is amazing and will blow your mind. Not only it's very easy to prepare, but the flavor is also stronger and you could make it with almost any fruit. Even though it isn't very long-lasting once you do it, you could mix it with some lemon, and prevent this. However, once you make it and taste it, you will eat it on the spot.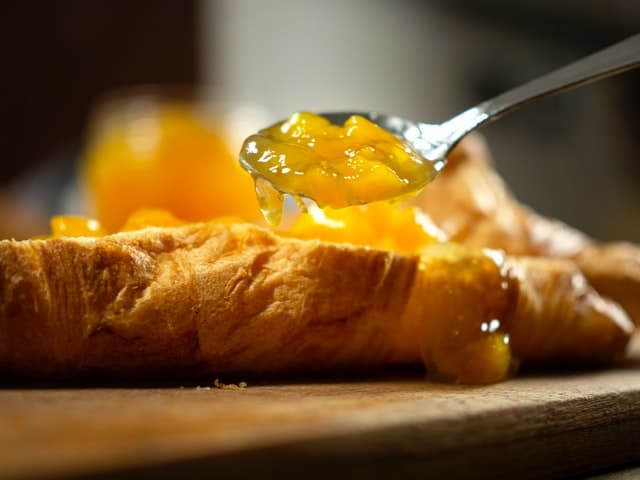 Prepare the fruit
A good jam only needs two ingredients, sugar, and fresh fruit. This means that you want to have the best quality fruit you can get. You should prepare the fruit too so you will get the best texture in the end. A lot of people will tell you that the best fruit is the one that is about to spoil and this is false. The jam will taste as good as the quality of your base.
You should wash your fruit under cold, running water. There are a lot of things that happen on farms that you don't know, so it's better to clean it a little. While you are doing this, remove the pits, the core, stems or even peel it if you have to. Finally, cook little batches at a time, so you can preserve it easily.
Preparation
Essentially jam is a fruit and sugar mixed and reduced. The best ratio is ¾ of sugar for every cup of fruit you use. So the best recipe we can give you is:
4 cups of the fruit of your choice, chopped.
3 cups of sugar.
Overall, that's a very manageable batch and you will eat it in no time, so you don't have to worry about it getting spoilt. Put everything in a saucepan, if you have one or a pot, and then cook it without water, until it gets the consistency you want. You can make it more spreadable or firmer, that's on you.
When you cook it, the jam can create foam, you could remove it by hand, but it's a time-consuming process. You could just add a ½ teaspoon of unsalted butter. You can use a metal spoon trick to know when your jam is done; dip the back of the spoon and run your finger in the middle. We like it on the point when we form separation and it won't come together.
Homemade jelly is very easy to prepare, you can have it done in minutes and it tastes a thousand times better. However, again, you need to prepare the fruit for the fruit juice. Ideally, you should make a fruit juice that has less water than fruit and then strain it, but you could just do a simple, nice juice and you will be fine.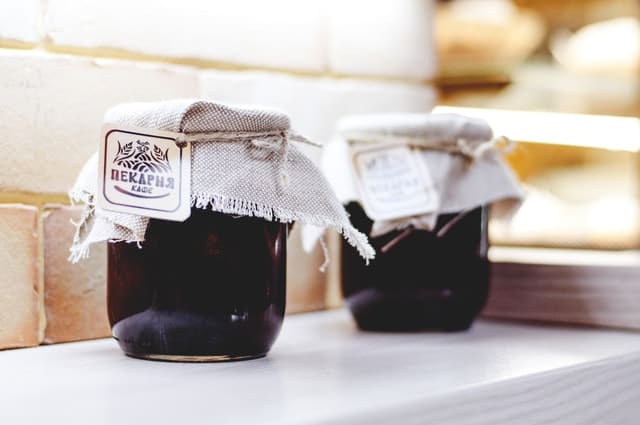 Make the perfect juice
There are several ways to make juice, but if you want the perfect jelly, we will explain you this way. Pick the fruit of your choice and chopped it, then put it on a pan with some water. A good ratio is ½ a cup of water for every cup of fruit. Bring everything to a boil and stir constantly while doing it. After a couple of minutes, the fruit should be soft, like a puree.
Preparation
If you already have the juice, everything is very straightforward. Put the juice and the sugar in a saucepan or a pot, the best ratio is ⅔ cup of sugar for every cup of juice again. Stir and mix everything. When it boils add 1 tablespoon of lemon juice and 2 cups of pectin and keep stirring until everything is combined; or for 5 minutes, more or less.