Music is, in its way, a healer. It can awaken or suppress some feelings. Getting your friend an audio device not only uplifts their spirits but also makes them happier. Just Audio allows you to choose your preferred gift from a wide range of high-quality audio accessories. Here are some of the favourite audio devices to get you or an audio lover.
For only $35.96, you can get these two exciting Bluetooth speakers. They can both be paired with your smartphone and amplify the sound in the room. The most considerable perk is that they are portable, which means that you can have your music on the go. Getting these lifts your mood regardless of the location. The circular devices allow you to forward or reverse your music, increase and decrease the volume all with their elegant sensitive touch controls. Additionally, you can use the play button to shift to a phone call, with the Mini Bluetooth Speaker built-in microphone.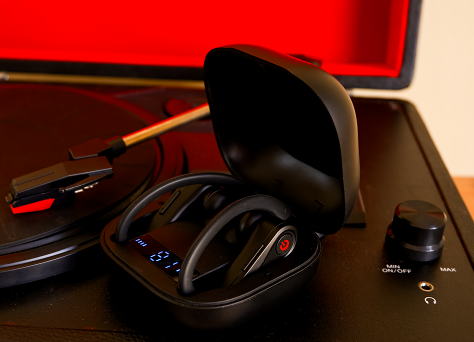 For only $69.97, you can get one set of Ultra Bass Pro Earbuds and enjoy your favourite music without interruptions! You can visit their online store, choose the item, add a note (special instructions), and place your order.
You want to know what else? You can also have the set packaged and delivered to your desired destination. If you want to return them, you may do so within 30 days and get a money-back guarantee without any questions.
3. BudsPro Mini
The high-quality music pods allow you to listen to your favourite music without worry about tangling wires. They are light in weight, and you can comfortably use them regardless of the activity. With the latest Bluetooth technology (Bluetooth 5.0) the buds give you fast and stable connectivity.
If you were wondering what's their best feature, we have you covered. The BudsPro Mini reduces all the background noise, offering a top-notch aural experience. They also come with long battery life and are ideal for travel. Get them for only $40.00.
4. 3 UltraBass Pro Earbuds + Free Mini Bluetooth Speaker
This set is perfect for multiple gifts! The package contains attractive nylon braided magnetic charging cables at a small cost of $39.96. The current offer is a true bargain, where you can get two free USB Magnetic Cables, for buying four of them. Now you will be able to charge your phone within minutes and transfer data in no time using USB without any worry. The package is really favourable as it fits both iPhones and Android devices which makes them perfect for a gift.
5. 3 UltraBass Pro Earbuds + Free Mini Bluetooth Speaker
The most exciting features of these Buds are the hi-fi sound and crystal clear call clarity with voice commands.
The three earbuds can quickly pair to all Bluetooth devices such as laptops, iPhones, and Androids since they count with the latest Bluetooth version (5.0)
They're also ideal for workout activities as they are sweatproof and water-resistant.
For only $177.96, Just Audio's current offer states that you get a free mini Bluetooth speaker when purchasing the UltraBass Pro Earbuds.