Hair makeovers are the thing right now, and peacock hair is one of the best trends this year. We all remember the 2000's scene kid trend, and the colors and the styles are coming back for us. So having none of the fear and excitement, we are all about to re-live our childhood dreamed hair.
Peacock hair is more than a curious style; it's a work of art of its own, and there are several ways of doing the so-called trend. So, if you live for these trends as much as we are, stay with us and learn everything there is to know about this. From colors to styles and lengths, we have everything that might interest you about peacock hair.
Everything you need to know about peacock hair
So, the question I'm your head might be, "what is even peacock hair, to begin with?" and we get it; it's pretty hard to visualize. But, it's called like this, thanks to the colors and patterns that are most common when doing the trend. Overall the trend resembles the peacock's tail feathers appearance, and it's one of the best fashion trends ever done.
Mixing between colors like blue, green, purple, and others, peacock hair is about creating an illusion of ombre hair. This style can be used in a large range of patterns and colors, and if you're curious to know, yes, we will list them all here. However, the most important part of it, it's having fun, showcasing creativity and uniqueness with your hairstyle.
As if a work of art, peacock hair has rules, but these don't have creative limits, which means you can have all the fun you want. The only rule to follow is to try and achieve the resemblance to a peacock's tail feathers – quite obviously. Other than that, it is on your hairdresser's hands -or your own – the free will to do as you want and to experiment as you wish.
Is length a problem?
We know this is one of our hair lover's biggest concerns having limitations over other hairstyles before. But you can begin bleaching your hair since there's no minimum required to the length of your hair for this trend. Being based only on the premise of resembling a peacock's tail feathers pattern, you can be sure to experiment.
The only important thing is achieving or getting as close to a peacock's tail pattern appearance, having no limit to how. After all, this is called peacock hair, and what is important is to look like, you guessed it, a peacock. In a chick, stylish way, of course, but just as creative you might want to be, nobody can tell you that something isn't correct.
Existing in a wide variety, from the longest hairs to fully shaved hairs, peacock hair can be tried on any surface. You can have any source of inspiration, or you can rely on yourself; again, there is no creativity limit. The only thing you will need for this trend is time to do your hair in different colors, so stop waiting and do yours.
Peacock hair ideas
As we said before, your font of inspiration can be whichever you want it to be and come from whenever you wish. So long as you have the main color – in whatever tone even – you have peacock hair.
Having colorful hair can be a statement; that is why this trend is so popular right now and has a showy style it's in too. That's why here we will summarize a couple of peacock hair ideas for you to have inspiration.
Pixie peacock
We all know how pixie hairstyle looks, all short, puffy, and dreamy, and in this case, full of several colours. And yes, you can have really short with several colors; and you can go a little further and make a design. What's different from long to short is that short allows you to "paint" in your hair, and it won't lose shape.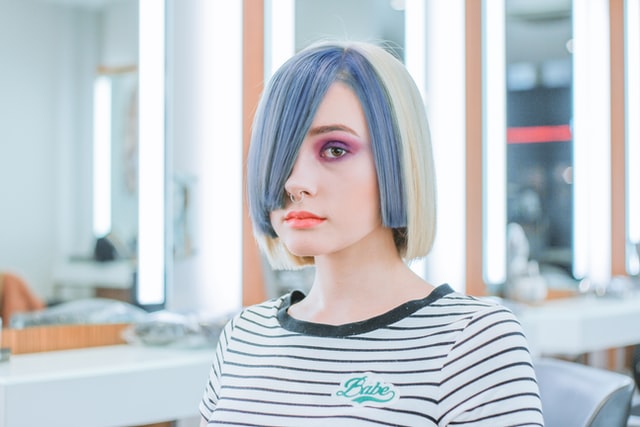 Underlights
As a hair love, we are sure you have seen the latest "back of the hair" trend, where you only do the back or neck area. This allows you to show a one color-looking block of hair that can be your natural color or whatever other. Then in the back, you can have the rest of the color combinations to have peacocks hair and reveal it in a ponytail.
One predominant color
As we said before, there's no rule for peacock hair, only a set of colors that exist in peacocks feathers. So, therefore, there's no amount of color that you have to follow in exactitude; you can use whatever color in whatever amount. That's why you can pick the color that you find more appealing and use it as a majority, then add the other colors as strands.
White peacock
If you know anything about peacocks, you know a white feathered peacock. Now, this doesn't mean that you won't be having all of the peacock's colors; on the contrary, you can have both. A kind of balayage look that can go from white to multicolor, or a hide and seek white, having white as a predominant color.
We have talked enough about peacock colors, but we haven't mentioned the literal ones. In case you're curious, we have the answers. As we sort of hinted before, there are three primary colors to peacock hair that you can combine however you like. And one color that is not most used but can experiment with when trying on peacock hair.
These three colors are blue, green, and purple, and you can use them in whatever shade or tone you wish. Being the trend based on peacock's colors, you can also try on combinations like caramel-looking colors. If we take it to an extreme point, you can try a white peacock hair look, as we said before, and combine it.
Types of peacock hair
When the moment comes to go to the hair salon and ask for a peacock hairstyle, your hairdresser will need to understand you. That is why we are making a list of types of peacock hair based on professional terms so you can say it properly. However, suppose you want any specific look; in that case, we advise you to show it to your hairdresser before getting your peacock hair.
Deep peacock hair
This is a shade over shades kind of look, where you will have that exactly, a lot of shades applied. The whole thing is about using dyes on chunks of hair as in highlights, leaving the rest of the hair natural. This will prevent rainbow hair and will also look more tone down than full-color peacock hair.
Dark peacock hair
You will have darker tones in this look, making the shades more subtle and mixing better in your hair. This look is great if you want to have really creative peacock hair but look toned down and serious. You can have this in the darkest of times you can think of, and it will still look wonderful on you.
Ombre (subtle)
If you don't know yet what an ombre hairstyle is, it means that you go from a dark tone to a lighter tone. That being said, you can use that on peacock hair, having darker highlights on multiple colors at the ends. This is a subtle one, given that the colors are darker, creating a hair color that won't be too striking.
Ombre (bright)
Having the ombre before this one as a reference, you already know what an ombre looks like. The difference between these two is that this is the bright version, meaning that this one will show off. You can use the bright tones and shades of colors in this one, still going from a darker tone in the root to a bright one.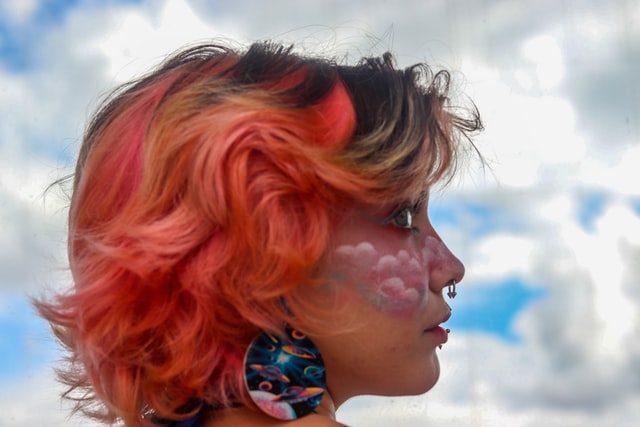 Ombre (full peacock)
Yes, this is the final stage of the ombre, the "all the way peacock" ombre, so get ready. On this look, as with other ombre, you will go from a dark or medium tone to light or super light one. The idea is to obtain high contrast, as well as a lot of color and brightness to your hair. You can go in two different directions; the first is using the colors to ombre, going from purple to blue to green. The other way is more difficult, but making the hair stand ombres for each color and having individual ombre per color is possible.
Underlights
As we said before, you can have a "surprise color", this is called under lights, and these are being used a lot right now. The reasoning behind this might be an environment where you can't have much of a crazy hairstyle. So then you will have if you wanted, darker tones of peacock hair colors in an underlayer of your hair. You can try this both with light and dark colors, but we recommend darker tones if you aim not to be too showy.