Xcaret Group, in addition to being an essential icon in the tourism industry and generating solid economic revenue in the Yucatan Peninsula, has become a role model in the sector for their social responsibility and leadership in issues such as resilience, technological vanguard, and the offer of unique products that help to take care of their environment. Xcaret Group is the main reference in the region in terms of its good sustainable tourism practices that drive many to stay at the forefront, making it a symbol of quality and safety in their destination. Xcaret Group creates unique and sustainable experiences inspired by its great love for Mexico, culture and life. Its offerings include parks, tours, hotels and other support units. All of Xcaret's products faithfully follow its business model, which is based on ethics, respect for human dignity, commitment to biodiversity and the creation of shared value in the communities where they operate. Since 2016, Xcaret Group has ensured alignment between the Group's management and the Sustainability Model through a system of evaluation and continuous improvement of its processes, programs and projects that contribute to the development of unique, sustainable tourism experiences that generate better environmental, social and economic conditions for its communities and future generations.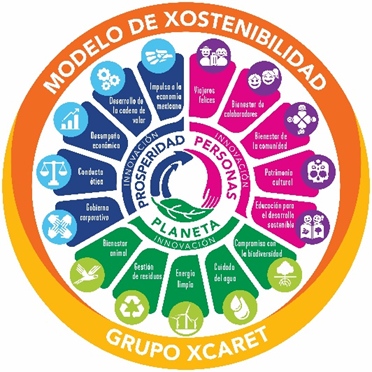 Xcaret's Sustainability model makes it easy to communicate the actions aimed at the performance of a prosperous business, the generation of social welfare and the conservation of the environment, based on three pillars identified as the "3Ps": People, Planet and Prosperity. The scope of its actions has two dimensions: internal and external. The inner dimension includes all activities carried out within the company related to business development, and the external dimension, which considers all actions that impact the environment where the company operates. In the planet pillar, Xcaret includes programs and projects supporting environmental conservation and covers two aspects: protecting ecosystems and species and animal welfare. This pillar reflects that Xcaret achieves a friendlier relationship with the environment through its actions. At the same time, in the people pillar, Xcaret focuses on social aspects related to respect for human dignity, quality of life, and preservation and dissemination of cultural heritage. Finally, in the prosperity pillar, Xcaret considers the profitability of the business and the generation of value to society and the environment. It covers four aspects: economic performance, responsible marketing, promotion of the Mexican economy and business ethics.
For the benefit of its workers, during the COVID-19 global contingency, Xcaret Group implemented sanitary measures complementary to its protocols to guarantee safe and hygienic environments for its workers who returned to the different business units. In turn, before the reopening of the business units, Xcaret Group applied 3,800 tests to its employees scheduled for re-entry. Once Xcaret Group resumed activities during August, October, November and December, more than 1,800 random tests were applied to 5% of the staff of each business unit. In addition, Xcaret Group conducted 970 tests at the request of leaders and area managers to confirm or rule out the causes of symptoms of the disease. These measures allowed Xcaret Group to have daily updated control of negative, suspicious or positive cases in the Group's employees and, in turn, to generate a database that has allowed the creation of individual files that the Human Resources team follows up until the confirmation of their safe return to the operation. Finally, in the last two months of 2020, Xcaret Group conducted a flu vaccination day. A total of 1,191 employees were vaccinated, resulting in an effective and safe return to work.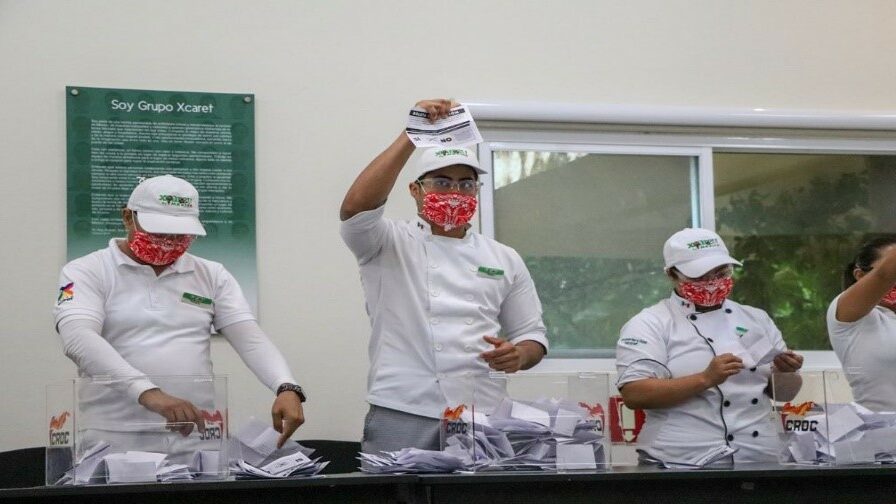 For the community, Xcaret Group develops actions, programs and projects to address issues of shared interest and maintain a healthy relationship. Xcaret Group, driven by its passion for creating a sustainable community, allies with civil society organizations and makes donations that allow it to continue working for the common good, such as its support to the Mexican Red Cross, "Fundación de Apoyo Infantil", "Centro Terapéutico para el Desarrollo", "Transformar Educando, A.C", and more. It is also important to mention that Xcaret Group manages programs for collaborative development, such as the Sea Turtle Program, where they work with and for their community through Flora, Fauna and Culture of Mexico and develop different programs with social and environmental themes for community benefit; Academic Excellence Scholarship Program, where 201 student scholarships were granted; Professional Internship Program, where 476 students did their professional internships; and many others.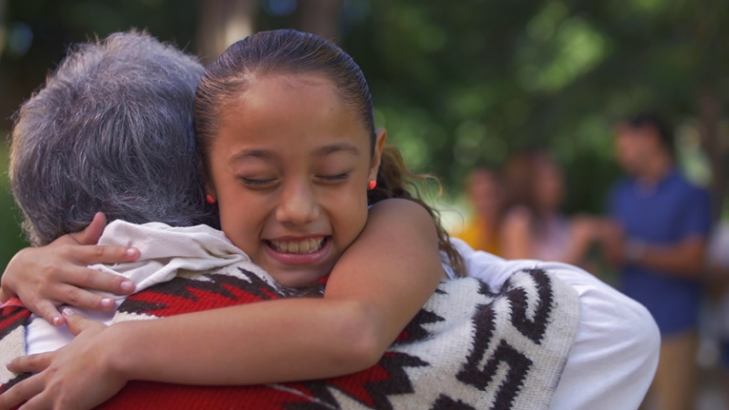 There is no doubt that Xcaret Group is one hundred per cent committed to providing you with a service of excellence and sustainability, which prioritizes ethics over efficiency, principles over results, and people over things.