Remember when you were a kid? Those times when you were utterly carefree and happy, playing at the park. Now, as a parent, aunt, uncle or grandparent, you care about moments like this because you desire the best quality time and experience for your cherished little one. Fortunately, Regatta has tonnes of comfortable and protective shoes to help you achieve safe fun with functional aesthetics!
These special walking boots ensure breathability and a shock-absorbing compression moulded EVA footbed. This responsive and comfortable surface protects against consistent impact due to your body weight. The cushioned footbed and a super grippy sole will bring stability and comfort to your child's next adventures.
These everyday summer shoes combine lightweight sports mesh with a hard-wearing sole. Explore towpaths or take a hike through town in these sandals. The friction-free fit provided by the spandex-lined uppers hugs the foot and ensures a supportive shape for any foot.
Ready for a rainy day with Regatta? Their puddle-friendly wellington boots with lots of cartoon patterns will give a potentially wet experience that childish feel. This adds colour to the innocent excitement of any puddle jump, with a comfortably cushioned footbed and a super grippy sole.
Regatta's high-performance boots feature windproof membrane technology and outstanding waterproof footwear for any unplanned hiking occasion. Their shoes are weather-resistant, lightweight and supply out-of-the-box protection. Their water-shedding Hydropel technology keeps feet dry inside and out. Don't lose the chance to check out these boots!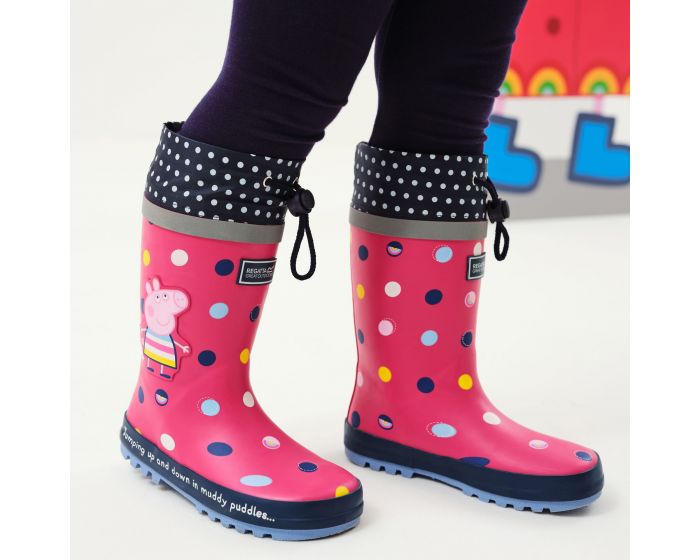 Looking for a durable and practical pair of shoes? Don't hesitate to check out Regatta's walking shoes! 70% mesh and 30% polyurethane will deliver the best possible texture and condition to wandering and walking on any surface and terrain. Give them a chance!