Going on a trip? Well, visiting new places is exciting, but some people dread the stress of travelling. Arriving at the airport on time and having the right outfit to rock in are some of the dreadful scenarios you are likely to encounter when travelling.
Getting the perfect outfit can be overwhelming, mainly if your wardrobe has limited options to offer. Whichever the case, consider getting an outfit that is both comfy and stylish. Whether you are in for a long haul flight or simply travelling locally, your comfort should be your priority when choosing the right outfit. Everything ranging from cosy and casual hoodies, stylish sweatshirts to classy dresses can help you achieve a model-like runway look. Dress stylishly and modestly by trying out the collection of outfits below with InTheStyle.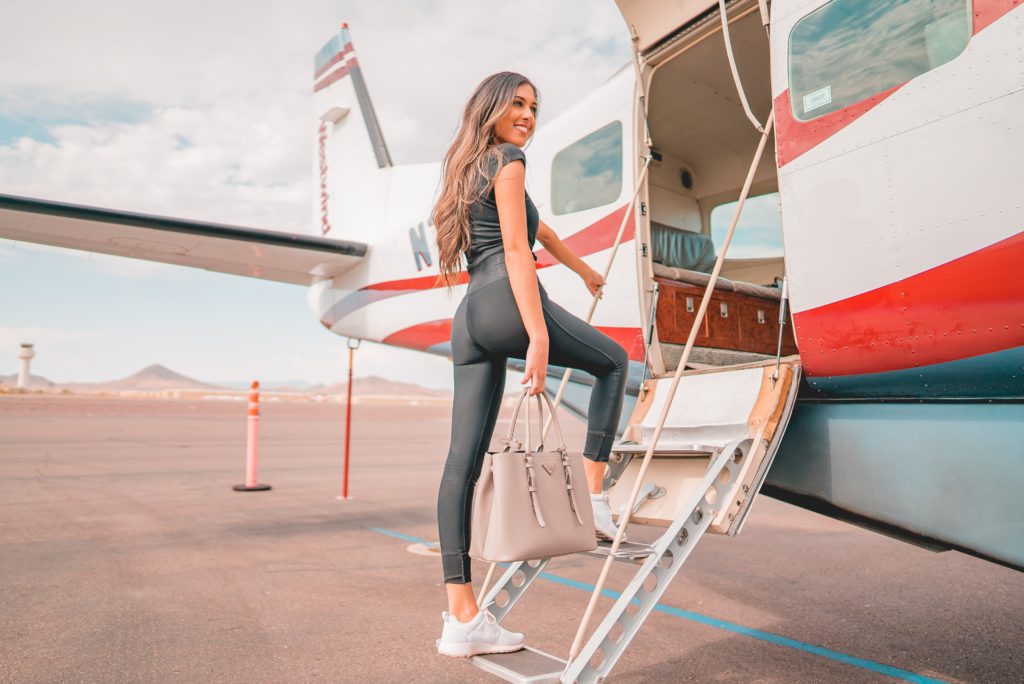 Amazing Collection on Airport Outfits
Here is a fantastic collection of airport outfits you can try out:
Charlotte Crosby Red 'Give Me Attention' Back Print Hoodie
You can never go wrong with a classy hoodie, especially if you feel a little under the weather. A Charlotte Crosby's collection hoodie with a 'GIVE ME ATTENTION' slogan boldly printed at the back is what you need for your airport outfit. Everyone will definitely give you the attention you need!
These washed hoodies come in a variety of colours, depending on your tastes and preferences. They are long-sleeved and about 70cm in length, but a slightly oversized fit gives a more stylish look. Combine the hoodie with a pair of denim trousers and matching sneakers or boots for a more defined look.
Saffron Barker Drawstring Bodycon Mini Dress
Up your dress game with this acid wash bodycon dress from saffron Barker's collection. It has a length of about 80cm and features notable drawstring side details and long sleeves. Its bodycon design helps define your curves. You can pair it with a comfortable and classy pair of heels for a perfect airport outfit. Additionally, if the weather is chilly, you can combine it with a matching trench coat or denim jacket.
Olivia Bowen Washed Yellow Sweatshirt
Sweatshirts and a pair of matching joggers have now become a fashion trend with most top world celebrities adopting it. Olivia Bowen's collection of oversized sweatshirts comes in multiple colours and has a length of approximately 70cm. They are made of a fair fabric composition consisting of 65% cotton and 35% polyester, meaning they are skin-friendly. Additionally, they boast long sleeves, an oversized fit and a round neckline. You can match them with a pair of matching joggers with an elastic waistband for increased comfortability. Additionally, you can put on a chunky pair of trainers for a sporty look that doubles for a stylish airport outfit.
Siannise Fudge Navy Cycling Shorts
Thanks to modern fashion, cycling shorts are back in trend. If you are into shorts, then you try out these cycling shorts from Siannise Fudge's collection. They have a high waist fit and are approximately 15cm long. You can pair them with oversized sweatshirts, a blazer or a hoodie, depending on your taste. These shorts are available in different colours for you to choose from.
Billie Faiers Pink off Shoulder Jumper Dress
Do you like knitwear? Consider trying this pink chenille off-shoulder jumper dress from Billie Faiers' collection. It is made of 100% and measures approximately 80cm in length. Give your fashion taste a new twist by trying out this latest knitwear release. You can find the dresses in multiple colours.
Don't feel overwhelmed when planning for your next air travel outfits. Try the airport outfits above and step out, looking like the celebrities or models you always admire. The list above is just a glimpse of what InTheStyle has to offer. Consider visiting them for these incredible airport outfits and more fabulous outfits.