It goes without question that the clothes you wear can determine your confidence levels, whether you're at work or just walking on the beach. Therefore, the first thing to do if you want to feel comfortable at work is to get your hands on the best clothes you can find. However, how we dress has changed drastically over the centuries and is still in an on-going process of change. Therefore, if you have been going to work in the same clothes for some years, no matter how good they are, it's time to upgrade your work wardrobe because it is most likely outdated. If this sounds like it applies to you, you can use the work outfits below from Ultamodan to update your work wardrobe.
This is the best choice for you if you are looking for a decent outfit that will stand out from the conventional office clothes for women. The trousers, which you can match with a coat, are made of cotton, polyester and spandex. They are grey and full length and come with a zipper fly.
Having this is matching pair in your wardrobe provides the best swap for your skirt and blazer suit. A good pick for a casual day at the office. Both the blazer and the trousers are made of cotton and polyester, and the blazer has a full sleeve and comes single-breasted. The set is available in beige and black and in both small and medium sizes.
This blazer, combined with a short dress, is the best pick to add to your wardrobe for the days when you have a casual event after office hours. You only need to remove the blazer, and your office look will be gone. The clothing length is regular, which you can get in small, medium, large and extra-large sizes. When it comes to colour, you only have the beige option.
The blazer's additional features are a notched collar, double-breasted closure, full sleeve, and a cotton/polyester material.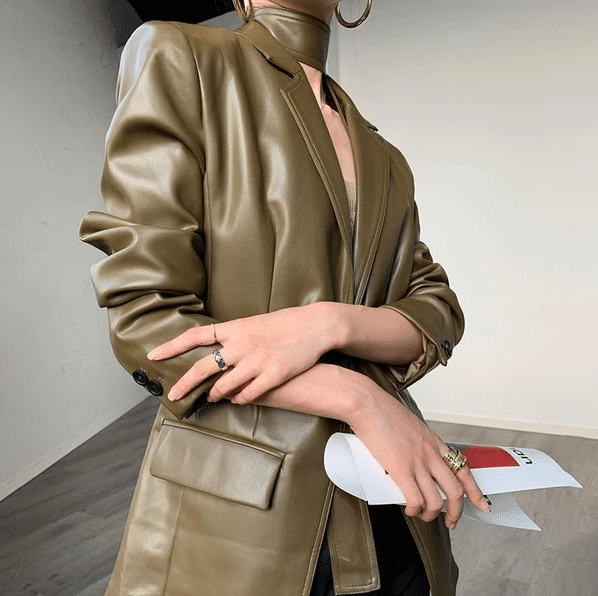 Leather will always retain its status as a classic material for any occasion, and that is why you should have some leather pieces in your work wardrobe. This leather jacket will come in handy on those chilly and rainy workdays. They have it in black and green and a variety of sizes from small to 5XL. This must-have has trendy features such as a turn-down collar, side pocket detailing and buckle closure.
Do you have several suits, and wonder why you should add another one to your collection? Well, the unique material should be a great reason to purchase this suit. This high-waist trouser and blazer suit set is made of velvet — a fabric that will make you stand out from the crowd. The suit is only available in green, but there are a variety of sizes to choose from.