The chocolate world has grown immensely over the past years, introducing a lot of trends for chocolate lovers. Now it is easy to have whatever flavour you want in your chocolate. You can have a chocolate bar with almost anything inside such as hemp seed, marshmallows, and a variety of other flavours. With all these innovations, it has become easy for a consumer to reap a lot of benefits from any bar of chocolate they take. Look at the incredible uses of chocolate with Cadbury Gift Direct:
Ability to Protect the Skin from the Sun Damage
Specifically, dark chocolate has proven to have flavonols that may increase skin hydration and density, block sun damage and impact increased blood flow to the skin.
It Can Improve Brain Function
Chocolate can improve cognitive function due to the presence of theobromine and caffeine. It is known to benefit mentally impaired older people. Dark chocolate can also improve verbal fluency.
Highly Nutritious
Chocolates that contain high cocoa content are very nutritious because of the high ranges of minerals and soluble fibre loaded with Antioxidants
It has biologically active organic compounds which include catechins, polyphenols, flavanols, among others that are excellent sources of antioxidants.
Impacts on Low Blood Pressure and Increases Blood Flow
Chocolate contains flavonols which impact on nitric oxide production through the stimulation of endothelium which is the artery lining. Nitric acid causes arteries to relax, which in turn lowers blood flow resistance hence low blood pressure.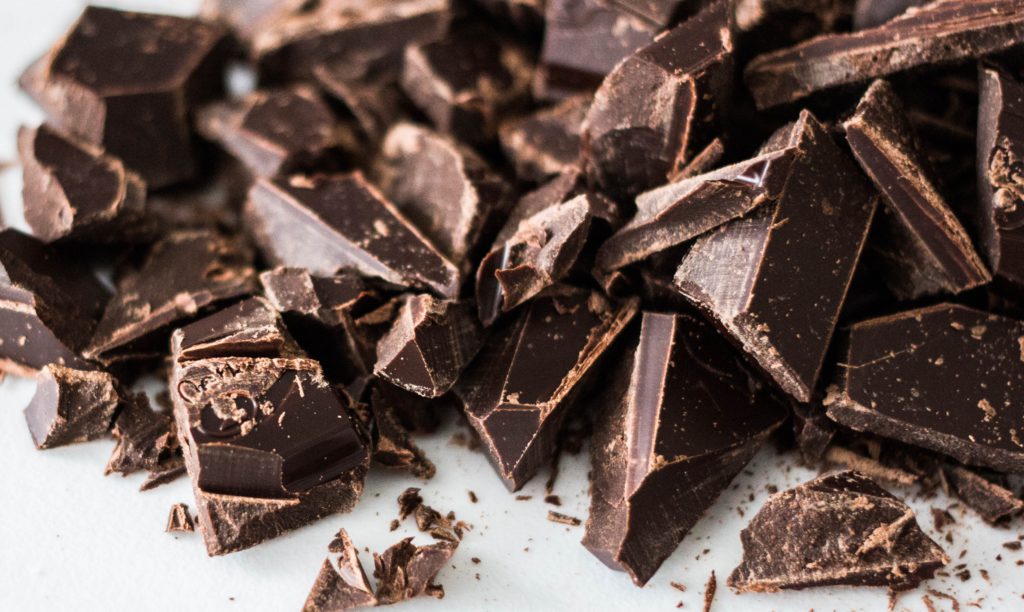 It is a milk chocolate bar that contains a delicious vanilla flavour. It is perfect for occasions such as the Easter holiday. It contains milk, cocoa butter, palm and shea oils, dried whole milk and may also contain nuts. It is suitable for vegetarians.
It comprises a candy shell that is filled with cream and tiny pieces of cookies that are covered in a festive silver or blue foil. Each egg provides about 180 calories. It contains milk cocoa butter, wheat flour and chocolate. They are ideal for parties, office gatherings, and also school exchanges.
It is an organic product that contains raw cane sugar, whole milk powder, soya, organic milk chocolate and cocoa butter. It may also contain nuts. No artificial flavours or preservatives are added to this product making it ideal for intake by vegetarians
It contains sugar, glucose syrup, cocoa butter, milk, eggs, and vegetable fats, making it suitable for use by vegetarians. The milk chocolate eggs have a soft, gooey, and fondant centre. It is a perfect gift for the Easter season to your loved ones.
It is another chocolate product sold at Cadbury gift direct store. It forms a perfect gift for a happy birthday. It comes in different flavours which include the original dairy milk chocolate bar, dark milk roasted almond chocolate bar, salted caramel chocolate bar, and dark milk chocolate. They all contain milk, sugar, cocoa butter, and natural vanilla flavouring.