Fashion is evolving every single day, and if you are a fashion freak, you won't want to be left behind. Refresh your wardrobe with something special from Ultamodan. Ultamodan creates women's fashion in a trendy and stylish look that flatters your sense of style. If you're looking for an evening look, something to rock to that wedding or girls' night out, they have you covered. There's a huge range of dresses and bottoms just for you!
If you've never been shopping at Ultamodan, then you're definitely missing out. They have amazing offers on their apparel. Slay and look sassy this season on a budget. You can never go wrong with these cute outfits.
Here are the best items of clothing to look out for from Ultamodan:
Ripped jeans are trendy and create a cute/sassy/casual vibe. Rock these when you want to grab a drink with friends. You could also pair them up with a crop top and your favourite trainers. The high waist emphasises your curves to make your body look stunning.
For a sunny day with just the bare essentials, this is what to go for. This super-attractive maxi dress with adorable prints flatters your curves and brings out the details. Team it up with a wide brim hat, flats and a cute little sling bag. You will love the final look. It's very affordable, so no excuses, just get it!
Rock this dress to prom night or a wedding. The vibrant emerald green and the ruffle pattern make it a red-carpet dress. Pair it up with your stilettos, and you're guaranteed to feel glamorous and beautiful. If you're a lover of ruffle hems, then the sparkling details on this dress are just exquisite.
This mini dress is made of cotton and designed for your cocktail party or night out. It is flattering, yet the tie sash and ruffled cuff give it the fashion-forward vibe. Pull off an ultimate girly attractive look with a pony and stilettos. Grab it while the offer lasts.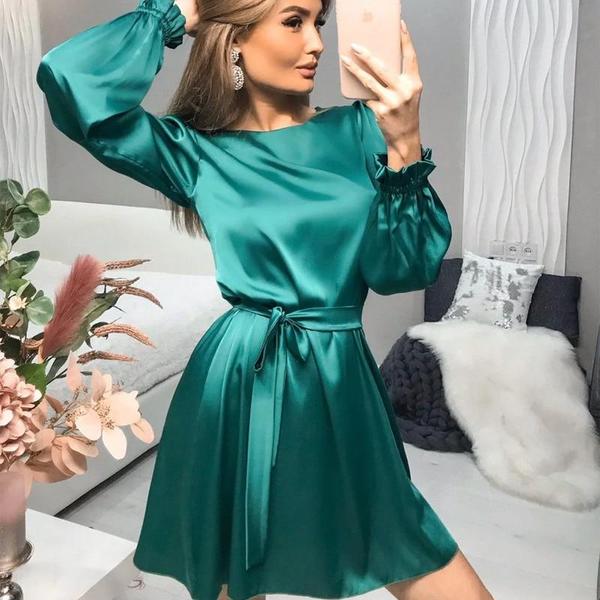 This black ball gown creates the royal look and will definitely turn heads your way at that party. You can have the top as one shoulder if you want to. The front split and soft fringes will make it dazzling at that party. This one needs stilettos, choose your favourite colour. It's the ultimate upgrade!
Heads up: if you love trendy fashion wear, Ultamodan's got you. The latest women's fashion pieces from the best designers are available at Ultamodan. What's more, the prices are affordable. Check them out anytime at Ultamodan. Place your order today.