Flowers are one of the most beautiful ways to show your affection towards someone, regardless of age, gender, relationship, or race. With special dates fast approaching, you can place your flower order at Eflorist. They have amazing packages with guaranteed freshness for that special person in your life. Let's explore five blooms that you can purchase at Eflorist.
The bouquet includes a beautiful mix of roses and chrysanthemums. Besides the beautiful look, the flowers also give off a calming scent and are an ideal gift for your mother. Eflorist arranges these beautiful flowers in two packages. You can choose the standard package for only £19.99 or go for the medium package for only £27.99. Book today and benefit from the free chocolates in the package. Every woman loves chocolates.
Does your mother or mother figure love Tulips? Eflorist packages this bouquet with 15 stems of purple lilac and pink tulips. They are transported in bud to protect them from any breakage and damages. You can get them on Eflorist's website for only £18.99. With the current offer, you also have an opportunity to save on the flowers and get free chocolates.
Roses speak a language of love. This package contains 12 rainbow roses. Florists at Eflorist take their time to paint each rose with vibrant colours to create the rainbow effects. While this shortens the roses' lifespan, it is the most beautiful bouquet that you will ever see. You can get the bouquet for only £29.99 together with free chocolates. Make your mother feel appreciated and loved with this package.
This package is a blend of pink germini, roses, and cream chrysanthemums. It has a heavenly scent and is guaranteed to cheer up your mother. Like Serenity, the flowers are packaged in two packages, the standard package for £17.99 and the medium one for only £22.99. If you book today on the Eflorist website, you will be eligible for free chocolates.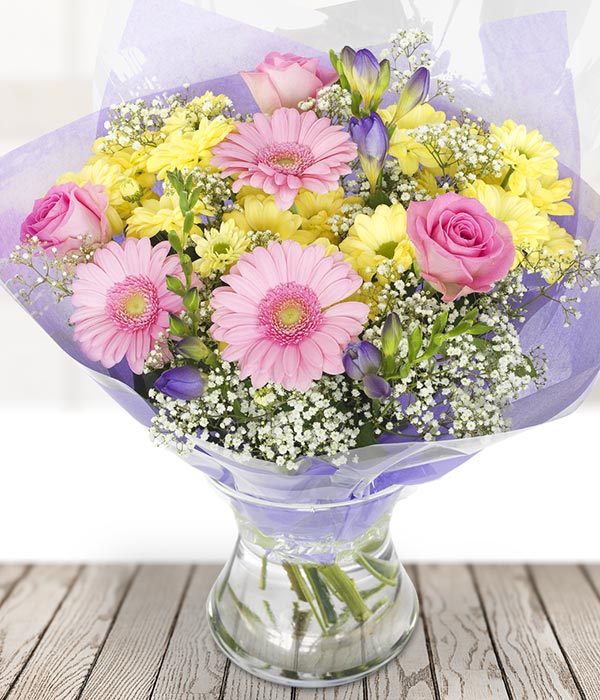 As the name suggests, the flowers create the effect of a warm breeze with joyful yellow, green, and purple blooms. It has huge sunflowers, statice, tulips, iris, and chrysanthemums. Get these magical flowers for only £26.99. Like the other bouquets, you will also get some free chocolates to complete the surprise.
Eflorist prides itself in offering its clients high-quality services, gorgeous-smelling flowers, in unique arrangements for special days and occasions. They package the finest and freshest flowers and bouquets just as you desire. You can get in touch with them and have them customise a bouquet for a special woman. They have affordable delivery rates and guarantee you delivery of fresh flowers on that very day. Book your bloom today on the Eflorist website and schedule the delivery for the special day. Don't wait until the last minute!