We always have that one friend who knows best to mix flours, get juices flowing, and end up with tasty treats. They deserve a treat before the end of 2020! So, here's an opportunity to get creative this Christmas holiday with the wide range of baking essentials from THE HUT. This site features everything you need for a perfect gift, from baking trays, quirky measuring cups, mixing bowls, scales, serving spoons, and much more!
Here you'll find a generous collection of baking-inspired gifts for a piping king like your friend. Read and discover more!
The Top 5 Best Gifts for the Star Baker in your Life
The high-quality and well-made bloomingville serving spoon features a classic baking-friendly design. The modern look makes it a great addition to any kitchen counter. It is well-balanced for proportional servings and the luxury and elegant finish will match with whatever dinnerware. Who denies gold gifts? No one! Not even your friend!
Christmas doesn't come to an end without the mention of Joseph; it is no wonder this unit is on the list! The pin eliminates the guesswork of baking! It is neatly crafted from beech wood and comes with 4 sets of removable discs to raise the rolling surface. It is ideal for scone mix, biscuit and cookie dough, pastry, pizza bases, and pasta.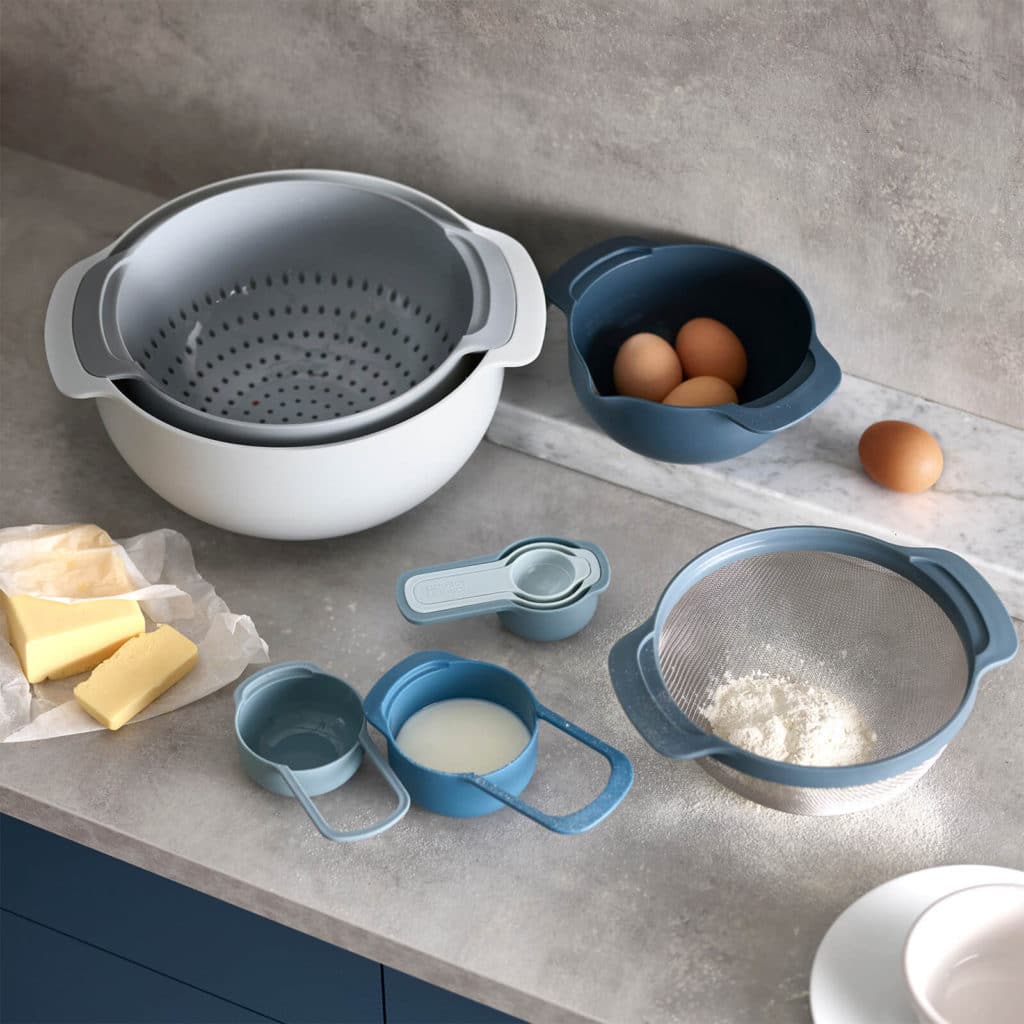 This stainless steel balloon whisk from THE HUT is an invaluable choice for whisking cream, cake, and egg mix. It comes with a beechwood handle and a handy citrus reamer at the base for juicing limes and lemons.
This 23cm square cake tin is a versatile piece that is freezer and oven safe. It's also easy to remove from the oven thanks to the wide rim that features heat-resistant silicone inserts for easy grip. All these features make it an ideal choice for any baking needs. Additionally, the tin suits several bakes and will make brownies, slab cakes, and gingerbread. It also doubles as a tiny roasting tin for roast chicken and winter vegetables. Noteworthy, this tin isn't suitable for any grill, dishwasher, hob, or microwave.
What makes this set a perfect gift idea is that each box includes 3 sachets for sharing. It is an elegant gift set for a friend who loves creating delicious home-baked treats. The set comes with 3 boxes of mug mixes and each allows inside baking. Your beloved will not struggle using this; he only needs to add in some milk and butter to the dried sachet mix and in moments he'll be enjoying a delicious and indulgent dessert. All the desserts are made in a similar manner melt some butter in the mug, add in some milk and the sachet's contents, then cook the mixture in a microwave. Cool for around 5 minutes and dive in, straight from this mug. If your friend loves toppings decoration, sauces, or marshmallows, this set is the best way to help him make a decadent and scrumptious treat.