Every season comes with special occasions that provide us with an opportunity to express affection through gifting. For many, choosing the perfect gift is challenging and can cause a great deal of stress. Selecting the right gift is more about the thought rather than the item. Gifting not only expresses love but also makes one happy. It also improves the social connection between family and friends.
Bunches is one of the leading online gift stores whose aim is to make gifting simple for many. It has different packages for different occasions such as birthdays, anniversaries, and weddings. The store contains special hampers for different occasions at an affordable cost making it easy for you to choose.
The Happy anniversary gift is the best for gifting a couple celebrating their time spent together. Bunches offer an amazing flower gift set for gifting on such an occasion. The Happy anniversary gift set is an amazing combination of 15 durable single carnations in shades of pink and cream that contain beautiful pink Gypsophila.
Bunches sends the carnation in bud to ensure that the vase lasts longer. The carnations can last up to a minimum of two weeks. The gift comes with a mini iced 6 cm x 6 cm fruit cake containing nuts. Ordering the product from Bunches allows you to enjoy free UK delivery and a 14-day freshness guarantee.
The birthday cake gift is an amazing selection of 15 enduring single carnations with shades of pink and cream with attractive pink Gypsophila. The gift comes with a small iced fruit cake with a 'happy birthday' tag making it an ideal gift for showing affection during a loved one's birthday.
The package contains cream carnations, light pink carnations, two-tone pink and cream carnations and pink Gypsophila. You can enjoy free delivery in the UK when you make an order on the Bunches' official website. It also comes with a 2-week freshness guarantee. Flowers come in bud to ensure maximum vase life. It also contains a 6 cm x 6 cm cake that may contain nuts.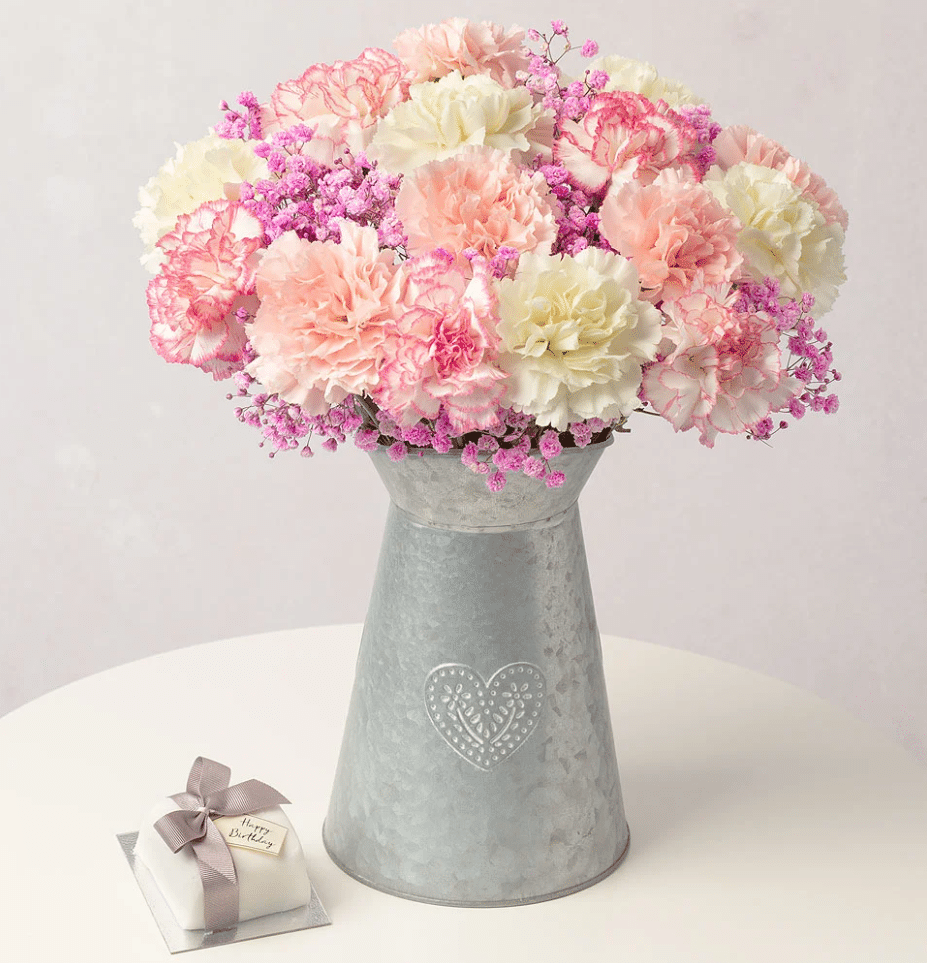 The birthday pizza gift from Bunches contains a brightly colored selection that contains yellow carnations, white spray carnations, and yellow Alstroemeria combined with white Gypsophila and yellow Solidago. The bouquet comes with a mini chocolate 4" pizza tagged with "happy birthday". The pizza is hand-made using fine Belgian chocolate to make it memorable.
The gift comes with a free UK delivery, a seven-day freshness guarantee, and is delivered in bud for maximum vase life.
The bouquet from Bunches contains a beautiful collection of pastel-colored carnations with pink Alstroemeria and lilac freesias. The combination is complemented by a rainbow Gypsophila. The color used to create the rainbow Gypsophila is 100% vegan and uses recycled water to ensure environmental conservation.
The gift also includes a happy birthday candle with a delightful white pepper and linen scent. Delivery within the UK is free and comes with a seven-day freshness guarantee. Bunches delivers the gift in buds to ensure maximum vase life.
This amazing gift from Bunches comes with a pretty pink rose plant displayed in a vintage-style steel watering can. It also comes with a 20 cl bottle of Foxdenton rhubarb flavored gin liqueur to make the day more special. Like the other products, delivery in the UK is free.