Boots are one fashion item that will always help spice up any look. Ankle, over-the-knee, calf, wedge, Chelsea, snow, and riding boots are among the many boot types that are trendy and fashionable at the moment. The most common ways they are usually styled include wearing your boot with a T-shirt dress, mini dress, skinny jeans, tights, mum jeans, or a maxi dress. Each piece of cloth you put on counts to make your whole outfit stunning. Inthestyle has prepared some fantastic outfit suggestions you can try out with your boot. Whether you like being edgy, casual, smart casual or classy, these fashion pieces complement many outfits very well.
This first outfit is ideal when you are considering to dress on a casual code. Match a bright coloured sweater top with a leather mini skirt. The mini skirt allows the over-the-knee boot to cover your legs for a conservative yet showy look. Tuck in your sweater top into the leather skirt; tuck, the sweater well, to avoid a puffy unorganized look. If you have a brown or black belt, you can buckle it up.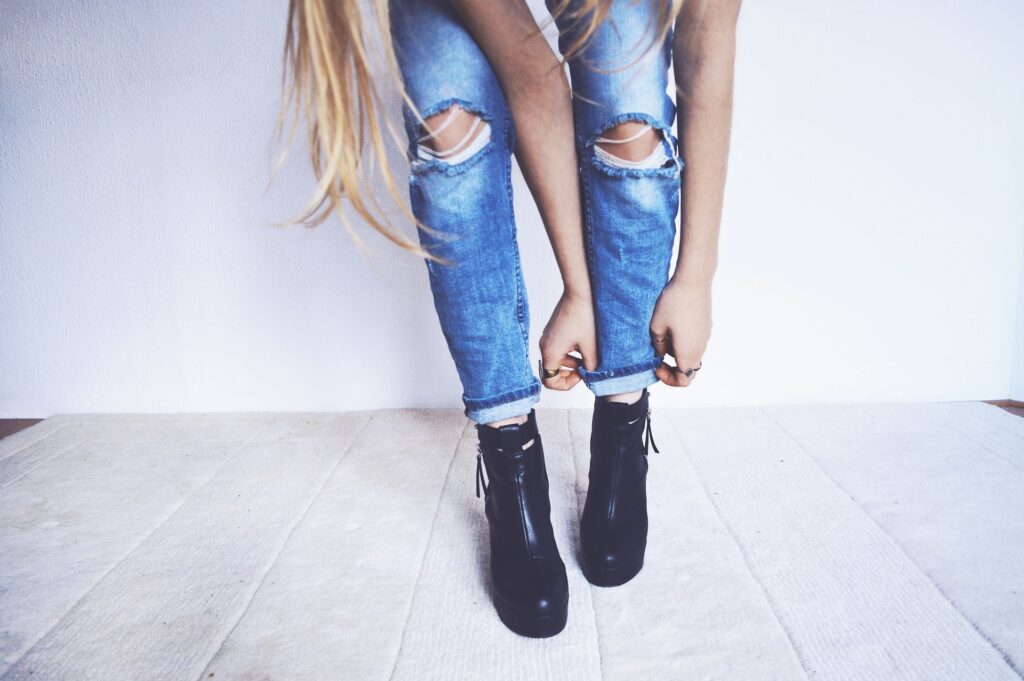 Find jeans that reach your ankle so that the length of your ankle boot is also visible. If your jeans are too long, you can cuff them at the hems for a stylish yet effortless look. Pair your skinny jeans with a patterned button-up shirt. Prints, patterns, or flowers on your button-up shirt create a warm and playful atmosphere. For a chic look, add a blazer of a colour of your choice.
The unique thing about a sock boot is that they bring a streamlined effect to any outfit you put them with. Be it a skirt, jumpsuit, dress or pair of shorts. Stylishly, wear your sock boot with wide-leg pants and a button-up shirt of a neutral colour. If you are a vintage lover, you could go for a nude coloured button-up shirt and add a hat to complete the look. This 70s and 80s kind of look will leave you feeling smart and confident about yourself.
Black is a colour that can match any outfit because of its universal nature. Always consider wearing something black if you are going the animal print way. Animal prints available in the Inthestyle include leopard print, snake prints, Zebra prints, and many others.
Elegantly slay in a cream sweater top or an off-shoulder top with a pair of black jeans and your cool animal print boot. This impressive look is a look for dates such as movie night or simply strolling in the park. Wearing a black denim pencil skirt in place of the black jeans will equally give you a fantastic look.
Chunky heeled shoes are comfortable because they are more versatile and comfortable than other heels. Chunky heels provide a wedge kind of heel. You can combine a chunky heel boot with a pair of black tights, a mini skirt, and a blazer or denim jacket. Accessorize it with a layered necklace and gold coloured bracelet or wristwatch.
Rock these outfits with your boots to look fabulous and fashionable. Inthestyle, other than having these boot types, also sell pieces of clothes accessories that will significantly complement the boot you chose to put on and make your outfits more stunning. Shop your style!