After spending the whole day busy running errands and talking to different people, all you need to do when you get home is to lay down and have a long and peaceful sleep. One important thing you ought to do is wash your face to clear out the makeup and any dirt accumulated on your face.
It may seem tiresome at first, but adapting to a skincare routine before sleep is essential. At night, your skin gets natural rejuvenation that will help it withstand factors such as the sun and pollution. Focus on a routine that will keep your skin hydrated to help you face the day.
5 Tips to Have a Good Bedtime Skincare Routine
We are dedicated to help you find the best skin care products that will give your skin the best results. Some of the tips and products for your bedtime skincare routine are as follows:
1. Start Cleaning Your Face with a Cleansing Balm
The best cleansing balm should be oil-free, hydrating and not pore-clogging. Before purchasing a cleansing balm, check what ingredients it contains because your face may react to some ingredients if you are not attentive.
Know your skin type too so that you can pick the right products. Your favourite shop might have varieties of products for different skin types from oily, dry, to normal, and the best part is: are vegan! We highly recommend cleansing balms that have ingredients such as aloe vera and cucumber.
2. Now, Clear Pores by Exfoliating
Your skin sheds dead cells daily to make room for new cells. Exfoliation improves the appearance of the skin, making it look bright and young. You do not need to exfoliate your skin every day; you can do it maybe twice or thrice a week. If you make it a habit, you will no longer suffer from breakouts resulting from clogged pores. As a bedtime routine, exfoliation promotes collagen production, a protein that improves the elasticity of the skin.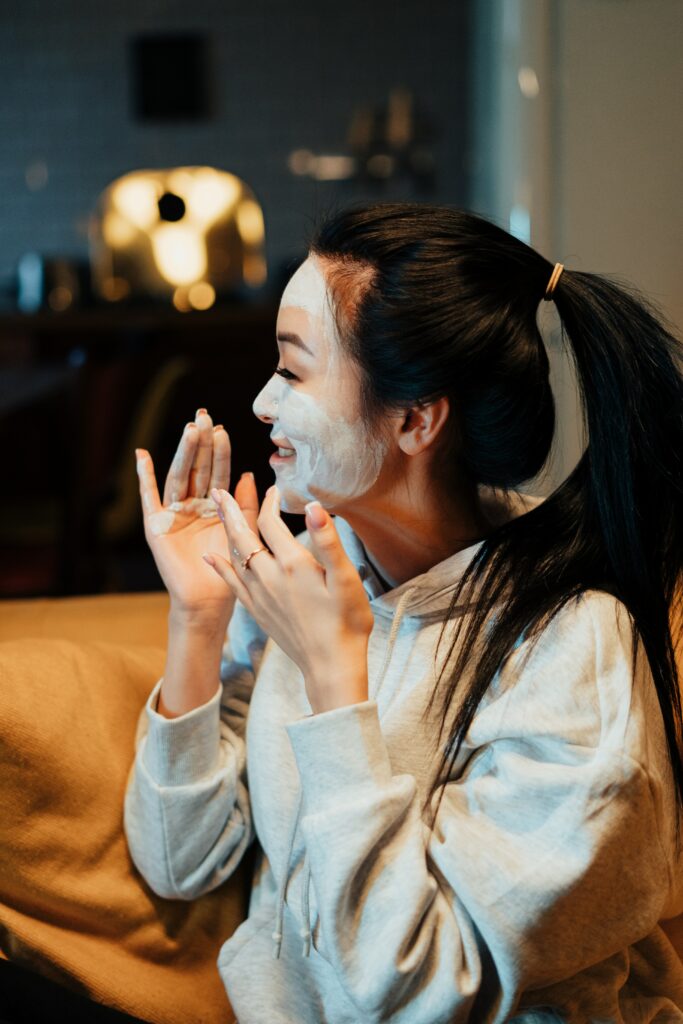 3. Find the Right Toner
A good toner will help remove any remaining oils and dirt from your skin. It is an essential part when cleansing the skin. If you have oily skin, choose an alcohol-free toner and if you have dry skin, go for a hydrating toner to keep your skin moisturised.
4. Refresh Your Face with a Face Mask
In your bedtime skincare routine, make it a habit of using face masks. Face masks will provide deep cleansing for your face by drawing out impurities from the epidermis. You may decide to use a face mask once a week or more often.
Face masks are therapeutic in a way that they help your face relax in the process. In the end, you will have glowing skin because the face mask stimulates blood circulation.
5. And the last touch, enjoy Moisturizing
A good moisturiser helps contain all the treatments that you have been giving your skin. It does this while ensuring that your skin remains hydrated. Always apply moisturiser generously on your face, and you will feel the results of your soft skin. 
Most of us long to have skin that looks young and does not breakout. Remember to choose the right products for your skin because not all products will react well with your skin.