Some of the biggest fashion trends of the year begin not on the runway but the internet and if you want to get the look that everyone is raving about, you've come to the right place. In the past few years, it has become abundantly clear that people want accessible, functional fashion and bloggers were the first to take advantage of that. Always at the forefront of ever-changing trends, they know what looks best and is practical, where to get them and how to score the biggest discounts. Today we're looking at the biggest name in retail fashion and some of their hottest pieces.

Where elegance and glamour meet with timeless chic, you have Joe Browns. The brand has stood strong for years and their new collection is something everyone in the fashion community is talking about, with bloggers leading the way. It was founded in 1990 by Simon Brown and started as a mail-order retailer. Today, Joe Browns is one of the most popular online retailers of functional and affordable fashion.

Here are some of their trendiest garments:
Obviously gorgeous, this dress makes a statement. The bold patterns combined with subtle draping flatters the wearer's shape without being overwhelmingly audacious. This is a limited edition and its available in purple and navy or mid blue.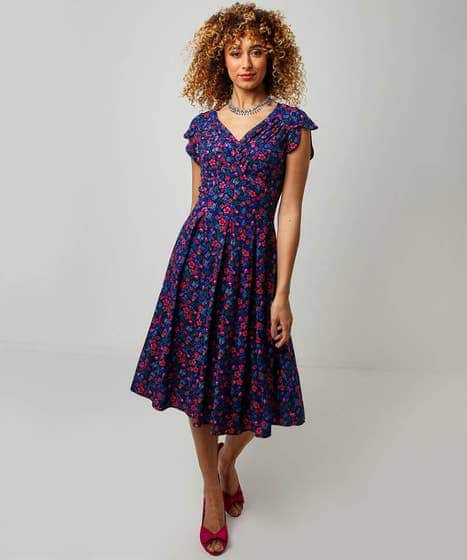 Tunic tops might be versatile and casual but you can also easily get away with wearing one to the office. And this one is a must-have. Pair this yellow and leafy green creation with dark leggings or skinny jeans and you're good to go.
This trench coat is from the Capsule Collection and is essential for cooler weather. Not only is it functional, but it also looks fantastic. The mustard fabric adds a pop of colour to the dullest day.
Elevate your look with a touch of style from the new collection. With smooth acorn leather and golden buckles set atop a stacked heel, these boots are to die for.

Perfect for carrying all your essentials and then some. Whether you prefer brown or vanilla, this is a bag that you won't regret purchasing and you could use for many years to come.

Whether you're looking for the best quality or the sweetest discounts, Joe Browns has something for you. Available online, with worldwide shipping, this company represent the idea of accessible fashion.