No matter what age you are, a super fun, and an exciting plan is to organise a sleepover with your girls! You've probably already thought of the entertainment and snacks for the night, but have you thought about your outfit? Be the slumber party sensation and wow all your guests with The Oodie outfits. The Oodie is the funniest fashion site on the internet! They have the perfect mix between a super soft blanket and a warm oversized hoodie for you to wear whenever you like! You'll find great oversized, fun and warm outfits with exclusive designs to make your sleepover a memorable one. Want to discover the perfect one for you? Come on, and take a look at their Oodies!
The Sloth Oodie is a super soft blanket that fits all body types thanks to its vast size and 6XL hood. This one features a fun sloth bear design and a soft flannel fleece lining on the outside, which will keep you cosy all night long. It's perfect for those who have the heaviest sleep so they can dream for hours and hours on end. This product is also 100% animal cruelty-free. Sleep at your best wearing a this Oodie!
The Oodie are always on top of the latest fashion trends. So if you're a fashionista, the selection of Tie-Dye Oodies is what you need! Enjoy their trendy, fun and colourful style by choosing the one your favourite Oodie. In Blue, Peach, Green and Purple, you can wear the one you prefer. Their exceptional quality that allows you to machine wash it without any hassle; throw it in the washing machine, and you're done! Being fashionable for your sleepover is easy when you shop at The Oodie!
The Oodie Mega Pack for the "Friendship Goals" Group
The Oodie wants everyone at your sleepover to look amazing! So, if you buy The Oodie Mega Pack now, you can enjoy six Oodies of your choice. Whether you prefer The Oodie in a fun, plain or Tie-Dye design, there are no limits to the fun you can have here! So don't wait any longer, and buy the fantastic Oodie Mega Pack for everyone form the squad to look fantastic for your sleepover night!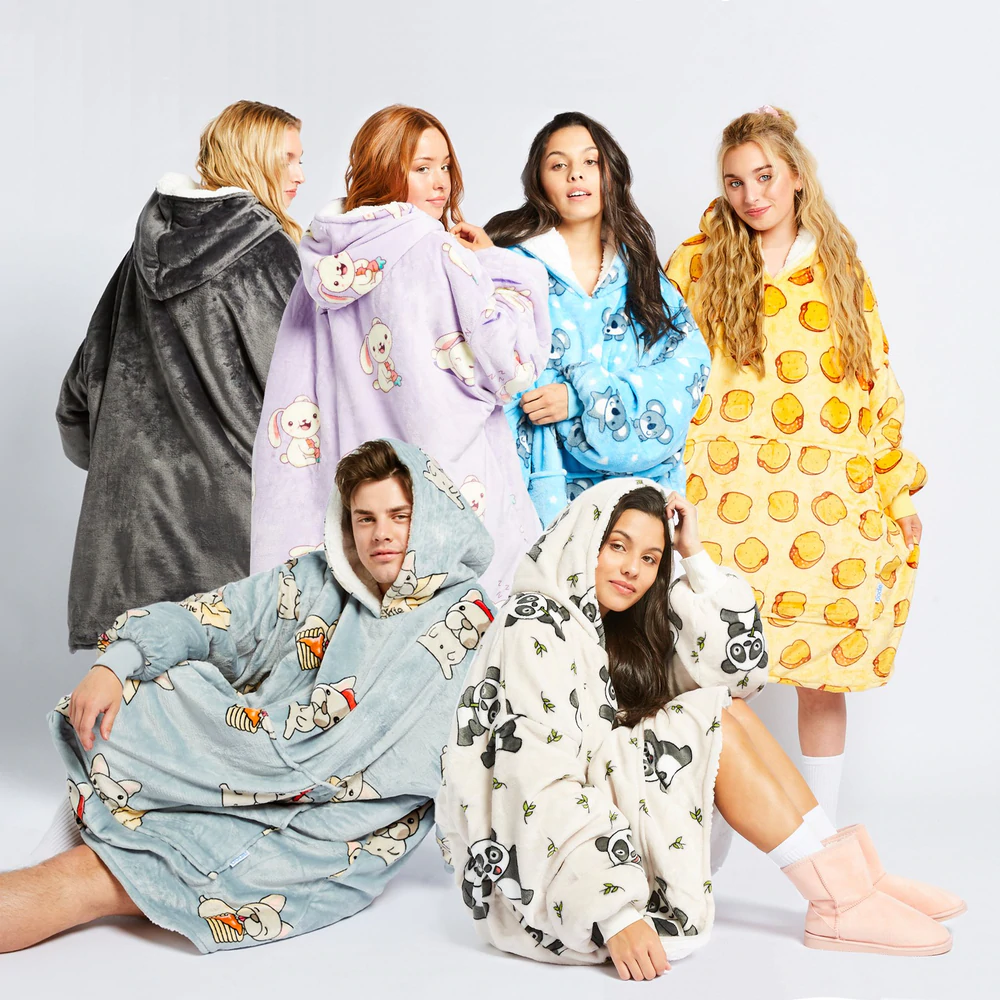 The Oodie understands that everyone has different tastes. That's why, if you are one of those who prefer relaxed and straightforward outfits, the Oodie has the ideal for you. You can search for the origin al design in cool plain colours. Look sweet with their beautiful pastel pink or blue colour, match the night sky wearing navy or go straight to basics by using the black or grey model. Extra coziness and softness is assured by buying your favourite model with The Oodie!
Not only will you not only have the best sleepover with your girlfriends, but you'll be super comfy with the little piece of cloud that is your Oodie! Take advantage of their deals and offers to take one home, and why not your friends too!