It never hurts to know what places to visit in Mexico, especially now that many countries are vaccinating. Since the pandemic began, many of us have imagined that there was no way to contain it, but it has been found. Many countries, such as Mexico, are vaccinating their inhabitants in order to revive tourism.
Since the beginning of Covid-19, travel has been reduced or stopped altogether, making holidays impossible. Now tourism is possible again, and Mexico is one of the world's favorite destinations. Here is a list of the places you can't miss, so you can enjoy this country to the fullest.
This destination is currently closed, however, it is expected to reopen in September this year. Located in the Yucatan Peninsula, it is one of the places to visit in Mexico that you can't miss. It was declared a World Heritage Site with good reason, being home to many Mayan ruins.
The temples you will see here are impressive, so much so that the Temple of KuKulkan was declared a wonder. Near the temple is also the esplanade of the Great Ball Game. Similar to football, this was a Mayan sport where you would score a goal in a hoop high above the ground. It is important not to miss the court because it is one of the few that exist.
If you are looking to fulfill your dream of going to this well-known and enchanting destination, take advantage of the packages offered by Xcaret, which has this and several other unique and incomparable experience packages. Take advantage and visit their website so you can see between this and their other options.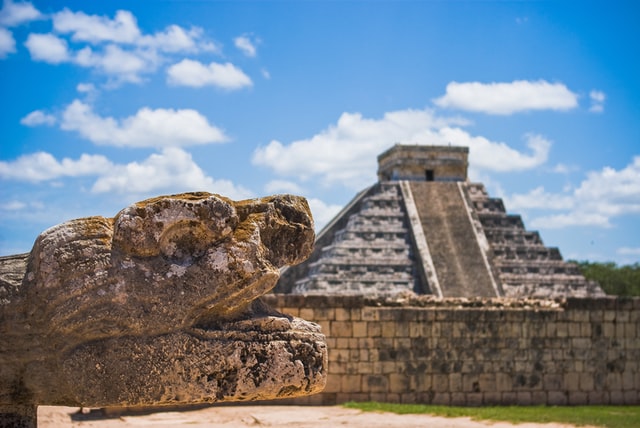 Huasteca Potosina
If you like nature and quiet walks, this is one of the destinations you must visit. The whole walk is done through trails that cross a spectacular natural landscape bordered by waterfalls. In case you like camping, we recommend that you have all your equipment, as camping is allowed here.
The Huasteca route is divided into three zones, each with its own natural areas. Within each, the guides will tell you how the pre-Hispanic ethnic groups lived and what they did there. Hand in hand there are a number of sporting and outdoor activities along the tour that make it all that much more fun.
Teotihuacan
This place is very close to Mexico City, so if you are in the capital, you have no excuse not to go. Despite being an archaeological site and having been extensively studied, there is still a lot to see. This is an ideal spot if you are interested in history, as you will see pyramids, buildings made by the Aztecs.
One of the main ruins is the Pyramid of the Sun. This is one of the largest pyramids in the world, next to it you will also see the Calzada de Los Muertos and the Pyramid of the Moon. The group of ruins is impressive and if you go with an organized group, they will tell you about their importance.
Isla Mujeres
This is one of the most popular islands and no wonder, as it is one of the places to visit in Mexico that is still open to the public. Cancun is probably one of the most popular destinations in Mexico, Isla Mujeres is at the forefront. If you like the beach we recommend you set aside at least a weekend to go.
Facing the Caribbean Sea, this island has some of the best beaches in the world. This is the perfect place if you want to spend a quiet weekend. It's ideal for relaxing, but you could also go as a backpacker and enjoy it, thanks to the large number of tourists.
Guadalajara
When you thought of Mexico, this name probably crossed your mind at some point. Being the second-largest city in the country, it is very well known and is one of the places to visit in Mexico that you can't miss. Seen as the land of tequila and mariachis, here you can find fiestas and various historical sites.
While you are in Guadalajara, it is an excellent idea to visit Jalisco. This is a town known for tequila, its production, and all its Agave crops. This place is a world heritage site and is very rich in culture, so you will learn a lot about the country.
San Miguel de Allende
Again, this city is declared a world heritage site because of its historical value. The whole city is a feast of colours thanks to the painted facades and the predominant colonial architecture. You will also find many handicraft markets selling local handicrafts.
This small town is very close to Mexico City, and it is possible to book an excursion from the capital. The plazas and churches are also great spots to take pictures and appreciate the Latin architectural culture.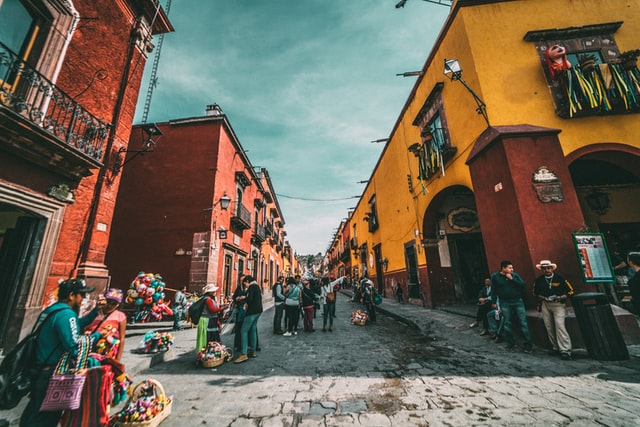 Hierve el Agua Waterfalls
There are many natural miracles in the world but few are as impressive as these waterfalls. This is a group of petrified shells formed over thousands of years in a natural way. Their formation sounds impressive, yes, and the view they offer is equally amazing. If you go, we recommend you pack a camera with plenty of battery power.
Once there you can also visit San Isidro Roaguía, a very important archaeological site in the country. After enjoying the waterfalls, you can also take a tour to this place to see the terraces, and the Zapotec irrigation system.
Monterrey
Another city that has become a jewel for Mexican tourism. This is currently a growing city with many tourist attractions. An incredible point of interest in this city is the Cerro de la Silla. This group of 4 peaks of 1820 meters high is a must-visit if you love nature.
Before scheduling this trip, it is important that you take all the necessary steps to enjoy it. Ideally you should be in good shape, but it is not essential. It is also a good idea to bring comfortable clothes and sufficient hydration.
San Cristobal de Las Casas
Chiapas is a state of Mexico that has a lot to offer, an example of this is the photogenic town. The "Pueblo Magico" is one of the places to visit in Mexico if you are interested in relaxing. The whole atmosphere in this town is very bohemian, framed by colonial-style buildings.
The charm of this trip lies in visiting the town without missing anything, neither the chocolate nor the beauty of its streets. The flea market is also a must if you want to know more about the town.
Xochimilco
This part of Mexico City is open to your good fortune and you can visit it without much trouble. Also known as "Campo de Flores", here you will find a group of canals dating back to pre-Hispanic times. Not only is it rich in history, it is also a visual and tourist attraction worth seeing at least once in a lifetime.
Above the canals, in the lake, there are chinampas, or artificial crops that recreate some of the ancient ones. Another benefit of this place is that you can get there by metro, which saves you money compared to other destinations.
Bacalar in Quitana Roo
Bacalar doesn't have much to explore, yes, but what it has it more than makes up for. This is one of the places to visit in Mexico that has so much to offer condensed into one spot, making it an incredible stop. The marine beauty is concentrated here, making it the ideal place for water sports.
We recommend that you visit the Seven Colours Lagoon, a place of transparent waters, full of activities. Among the things you can enjoy are the rapids, several spaces to enjoy other water sports. If this is not your thing, you can also visit Fort San Felipe or the Caste War Museum.
Holbox
You may never have heard of this place, but it's one of the places you can't miss. Being one of the most important destinations in the Riviera Maya, it has a lot to offer, especially in beaches. Another benefit is that this destination is not very popular, making it one of the quieter islands.
Vehicles are not allowed on the island, so if you have chosen this destination, you will need to walk. The walks are short, you can cover the island from end to end in a short time, or you can hire a golf cart. Before going to this island, it is important that you check the ideal dates for marine tours, such as the bioluminescence tour.
Marietas Islands
The archipelago that makes up these islands has been famous in Mexican history for a myriad of urban legends. Part of what you will find here is a large number of beautiful natural caverns to explore. The burnt appearance of the rocks is what gives rise to the urban legends and you can learn about them on the tour here.
Among the group of islands is Playa Escondida, the entrance to tourism is regulated, so it is important to book in advance. The beach is incredible, being one of the places to visit in Mexico that will leave you speechless.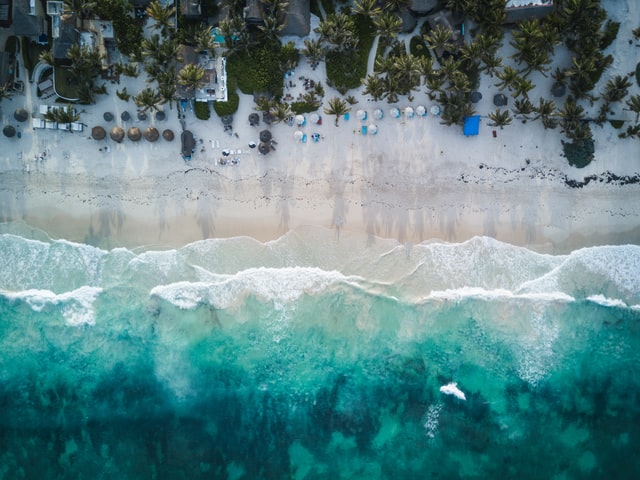 Palenque
Being so close to San Cristobal de las Casas, this may be the destination you go to right away. This is a Mayan archaeological site, much smaller than all the others but no less impressive. The next most impressive thing is its location, in the middle of a tropical jungle.
The buildings are very well preserved and the whole structure is very well maintained despite the passing of time. Thanks to this you will be able to appreciate the architectural details more accurately, if this interests you.
Agua Azul Waterfall
The natural areas are perhaps one of Mexico's greatest attractions. This is not surprising, as most of them are World Heritage Sites and are very impressive. In Tumbalá, Chiapas, the Otulún, Shumuljá and Tulijá rivers meet, forming canyons. It is here on these cliffs where you can appreciate the beauty of the waterfalls.
The color of the water is the most striking feature of these waterfalls, possessing a striking blue colour. This is due to the carbonates that dissolve in the water, creating a photographic spectacle as it falls. If that's not enough, there is thick foliage surrounding the waterfalls, framing everything, making it look like a paradisiacal photograph.
Mazatlan
Although not as popular as other cities, there is plenty to do in Sinaloa. Besides the large number of typical restaurants and the beautiful views from the beaches, there is much more to enjoy. Mazatlán in particular has two beaches that are other jewels of Mexico.
Both Playa Camarón and Playa los Pinos are paradisiacal places of white sand and crystal clear waters. Both are mostly frequented by locals, which makes them very quiet, ideal for families. We recommend that you book a hotel in advance if you choose this destination, here are some tips.
Izamal
Perhaps this is not one of the most talked-about places to visit in Mexico and we don't understand why. Not only is it a culturally rich place, but there are a number of historic buildings to see. Inside the city you can see the Templo de la Purisima Concepcion and the ensemble it makes with the Convent of San Antonio de Padua.
Several buildings stand on pre-Hispanic platforms, making buildings such as those mentioned in the previous paragraph iconic. After a long walk and the corresponding pass, we recommend trying the typical food, such as the famous cochinita pibil.
Extra: Don't miss the Monarch Butterflies
Michoacán has a lot to offer, but nothing like its Monarch Butterfly sanctuaries. This is one of the most famous butterfly species in the world due to its migratory cycle, and they pass through Mexico. In Michoacán you will find two sanctuaries, one in the mountain of El Rosario and the other in Sierra Chincua.
It is important to visit these sanctuaries between November and March. The butterflies migrate on very specific dates and it is during these days that they are in the sanctuary.