We all have those essential dates we always remember; some dates may be personal, such as birthdays and anniversaries. Some might help us stay focused on our professional goals, such as our work anniversary. But not many of them will mean as much as the 4th of July, the day the US became independent and as free as it is nowadays. So it has become a tradition to celebrate this memorable holiday with fireworks, concerts, family reunions, etc. Etsy, thinking of this, has come up with the perfect items for you to celebrate this 4th of July in style!
The Chunky Sailor Knot Headband is a cute and casual accessory that you can wear with any outfit. It's easy to put in your hair without having to worry about messing it up. Etsy's twist for this classic look for this 4th of July is a design with the stars on one side of the headband and the red and white stripes on the other. When wearing this, you will have the design of the American flag on your headband and will fit perfectly on the celebration of the 4th of July!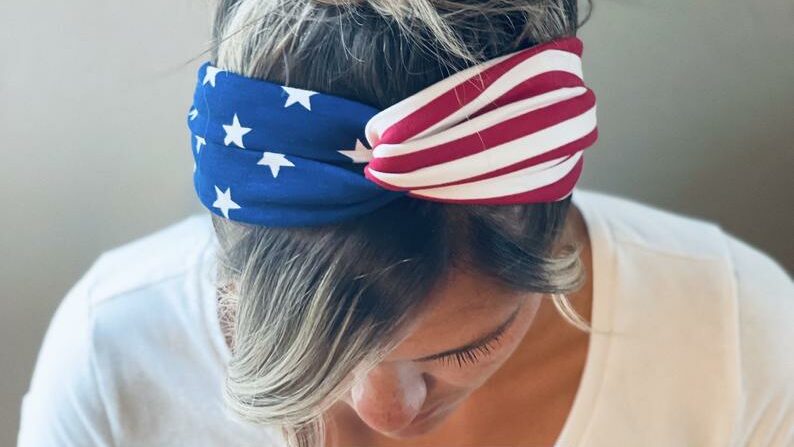 If you like drinking on the 4th of July while celebrating US independence, this is the perfect product for you! Etsy's president shirt has the different US presidents in history with a unique twist on their names; for example, Thomas Jefferson names is showed as Thomas Drunkerson, giving it a unique and funny twist to these historical and vital people in US history. 
On the 4th of July, parades are always an essential part of the celebration. But, the hot summer days are something to worry about when attending these events; with Etsy's 4th of July tank top, you will not only be dressing according to the event; also, you will keep feeling fresh on the sunny summer day. This tank top resembles the US flag showing the stars on one side and the red and white stripes on the other. 
The perfect decoration for your spaces on this celebration, the patriotic stars by Etsy, are ready to amaze everyone with their high-quality wood. They come in sets of three, one blue, white and red stars to show off the US colors proudly! These stars are handmade and handpainted, making sure they create a rustic color on them. 
When having a 4th of July party, it is crucial to have the decorations go accordingly. A banner is always suitable for parties; it helps liven up space, and this design by Etsy indeed accomplishes that with their red and blue designs to show off the US spirit! Are you having a second party? No problem! This banner is double-sided and will give you another design when you turn it around! Please go check it out at Etsy!
Celebrate the 4th of July with friends and family, have a good time and amaze everyone with your style with Etsy!