Having natural blonde hair isn't easy, especially because your hair will need a lot of extra care. However, this isn't something terrible; this means you are really lucky because only 2% of people in the world have blonde hair. So, if you want to keep your golden lock flawless, you must be careful with what you do.
Natural blonde hair is amazing but is more prone to environmental damage and can suffer more from other factors. On the other hand, you have probably heard a lot of blonde jokes every single day. We will tell you how to take care of your hair and avoid every dumb joke.
How to take care of your natural blonde hair?
Taking care of any type of hair can be tricky, and maybe the natural blonde is the hardest one. Even though your routine will take you longer, the result will be worth the extra time. Remember that even natural blonde hair is delicate, so try to avoid the sun or anything that may burn it.
Maintain the moisture
Blonde hair is mostly thinner than other colors or has more porous than others. This, in combination with the dryness, can make your hair more permeable, allowing the environment to affect your color. If you abuse the dryer or the flat iron, your hair will get dry, and the dryer it gets, the most the environment will affect it.
There are several ways to maintain the natural moisture in your hair. So far, the best one is to use a cleanser that doesn't strip your hair from its natural's oils. Next, on their formula, there are essential oils, which will clean your hair and leave the oils in it. Finally, we recommend you balance it with a conditioner.
Protect your hair from the sun
Sun damage is bad for you no matter what, but natural blonde hair is especially at risk. Light-colored hair has fewer, more delicate strands, so heat damage and sun damage hit worst. You can shield your hair with a scarf, a wide-brimmed hat or with ultraviolet protection in the form of sprays. Of course, ultraviolet protection is your best bet; however, there are many stylish hats.
You need to be careful with your scalp, too, considering that sunburn will affect the quality of your hair in the long run. There are several sprays and powder-based SPF protectors for your hair. Make sure that you work the product intensely into your hair and scalp for the best results.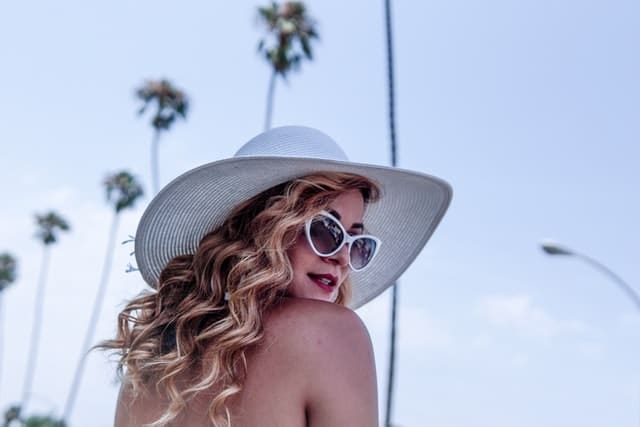 Avoid Chlorine
Chlorine is the nemesis of a natural blonde hair. It is a natural enemy of all hair types, but the damage that it can cause to natural blonde is another story. If you are not careful enough, your hair can turn green – thanks to the copper deposits in the water oxidized by chlorine. Also, it will wash away the natural oils of your hair, leaving it dryer.
There are several ways to avoid chlorine damage, and the best one is simply to avoid chlorine. However, if you can't do this for whatever reason, you should wear a ponytail or wear a bun when you go for a swim. If you can, try to rinse your hair thoroughly before and after entering the pool.
Wash your hair with cold water
Nobody likes cold showers, but they are incredible for your hair. However, properly washing your hair can make the difference if you want to keep your natural blonde hair healthy. Rinsing your hair with cold water can seal the outermost layer of the hair, a.k.a the cuticle. This seal will help you to lock the moisture of your hair.
We aren't saying that you always have to have a cold shower, but it won't hurt you from time to time. If this is too hard for you, you could just rinse it with cold water; this will do the trick. You don't have to do it for a long time either; you can just spend a few minutes under the cold water to guarantee that the moisture will be locked.
Struggles only natural blondes can understand
We can't make this list without talking about the struggles only natural blonde girl's experience. Even though blondes have more fun, not everything is sunshine and lollipops. There are still many stereotypes there that fit blondes in one category; also, natural blonde hair is very delicate. So here we show you some of their struggles, so you can be nicer to them.
Blonde hair tends to get greasy in no time
Thinner hair is a synonym of many hard things. This isn't a bad thing; however, the natural oils will cover your strands faster. If it's hot outside, your hair will look oily quickly. There are many ways to solve this, but we recommend you to use this dry shampoo, ideal for darker hairs too.
Everyone will think you are a Barbie
Since Legally Blonde and many other real-life blonde Barbies became famous, the Barbie blonde – or dumb blonde – became a troupe. It's hard to avoid pink from time to time because many fabulous outfits only came in pink. However, you can always turn around the stereotype and be a killer, one of a kind, Barbie.
People never get why you always ask for purple shampoo
You must fight the brassiness somehow, and purple shampoo is your friend. But, unfortunately, your strands can get green – a nasty green – if you are not careful enough. This is why you must always be sure you have purple shampoo within your essentials.
One more dumb blonde joke, and you are done
All the haters use the same jokes, dumb blonde jokes, and you are done with the haters. You always listen to the same jokes constantly, and you don't know when it will stop. Luckily, being flawless is a full-time job, and you don't have time to spare for haters.
This is probably the worse stereotype related to blonde hair, but it's easy to dismiss. If you are a queen, no matter how many hatters come to get you, you can turn the tables. You don't have to prove anything, but you can always make a smart comeback.