Being able to say "my nails are incredible" isn't always easy. Taking care of your hands takes time, especially if you take care of your nails and how they look at home. However, if you do this, you probably have many tools that make this effort more manageable; at least, if not, we might give you some useful tips here.
Maybe a nail salon is your best bet if you want to have perfect nails, but you can't always go there. However, there are many ways to do this at home for a cheaper cost, with better long-term results. We will tell you everything you need to know about taking care of your nails and many more things.
How to keep your nails healthy?
Taking care of your hands is as important as taking care of yourself. One example of good care is keeping your cuticles at bay. Cuticles can make your hands look messy, so it is crucial to cut them regularly. Your nails grow from an area beneath the cuticle that we know as the nail root. Pushing the cuticle back will make your hands look cleaner and your nails longer.
According to many dermatologists, you have to make sure that your tools are clean before cutting them. Cuticles protect the nails matrix from bacteria and germs, so you could get an infection if you are not careful enough. So make sure that all of your tools are properly clean and disinfected before you cut your cuticles, so you can say, "my nails are healthier than me".
How can I give myself a manicure at home?
Nail a professional look at home isn't easy, but it's possible. First, you need to file and shape your nails the proper way, or at least, the way you like it. One way to achieve this quickly is holding your hand in a high five in the air with your nails facing you or trying the "holding position". From there, you can file the sides of the nails until you get the ideal shape for you.
Then you need to paint. The hardest part is the painting; however, it's not impossible to get a professional look at home. If you want to have the perfect coat, you need to be patient and apply a small, light layer of polish. On the other hand, painting directly over the cuticle will look messy, so take your time and fill the smallest spaces between the cuticle and the nail.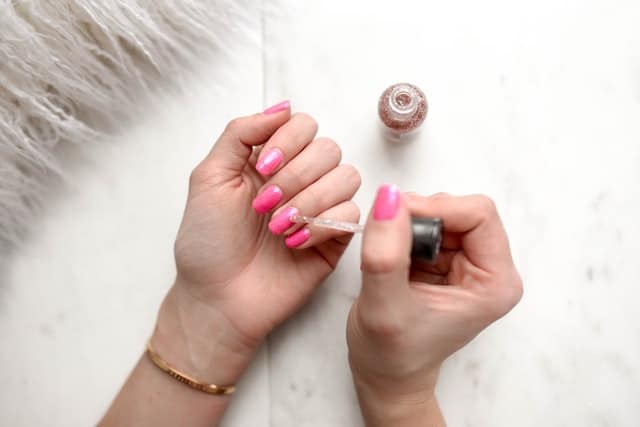 How do I use press-on nails?
If you don't want to paint your nails, press-on is your thing. They are making a comeback now, so you can use them if you are in a rush. You can have a large variety ready for whenever you need it, no matter the occasion. Also, they are easy to set and remove if you want to try to do your nails yourself.
When you apply the nails for the first time, be careful about the amount of glue you use. One or two drops are enough for them to be ready, and then press the nail down for 25 seconds, and you are prepared to go. You can also blow the nail while you press to make them dry faster. Another benefit is that many of these nail options are reusable, so you can make a list called "my nails for every party".
Can I make this manicure last longer?
With good glue, it could last at least 2 weeks, minimum; however, there are a few things you should avoid. First, you need to keep your hands completely dry, for example, or at least as dry as possible while you wear them. Second, moisture loosens the glue, which will make them fall if you are not careful. Finally, keeping your hands dry isn't easy, so you should expect to lose one or two nails.
Ho to remove acrylic nails at home?
Acrylic nails are tough to remove because you could heavily damage your nails. However, there are ways that you could do it at home, but you must be careful while you follow every step. So grab your tools and be ready to do everything to say "everything for my nails".
File away all of the acrylics
You need to file the top layer of polish before removing anything else; however, you will need two types of files. First, you will remove the acrylic's outermost portion, containing the polish and the thicker layer, far from your nails with a core grade one. Then, you must change to a thinner file to remove the rest of the acrylic without damaging your nails.
Core grade files are rougher compared with the regular files you will find; this is why they are perfect for this job. You must take your time and be patient while you do this, so you can binge-watch any show. Try to do long, gentle strokes while you file, so you won't damage your nails.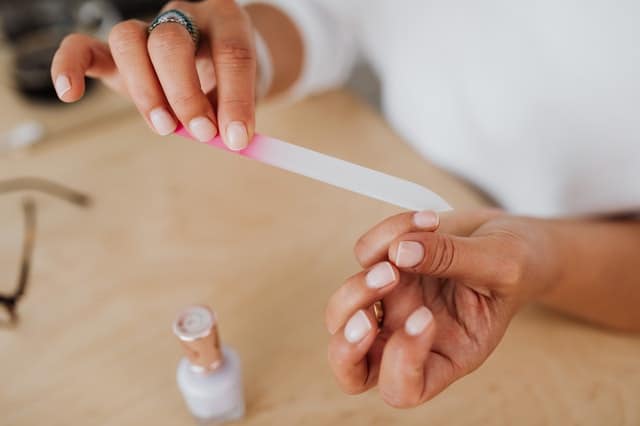 Soak them in acetone
After you file everything, you can just soak your hands in acetone. If you didn't know, acetone is like kryptonite for acrylic nails, so this is the safest way to remove everything. Once you have filed everything, put your fingers in a bowl full of acetone and wait for at least 30 minutes. We recommend you warm the acetone beforehand if you want the best results.
If you don't want to damage your skin while you do this, you could just use aluminum foil and cotton. This is a method you might know already because it's the one nail artists use to remove acrylics. You need to soak cotton balls or cotton pads in 100% acetone, put them directly on your nails, and wrap your fingers in aluminum foil.
Remove the remaining acrylic
If you want to look at your hands and say, "my nails are done", you need to scrap the remaining pieces. You can do this with a cuticle pusher, a wood stick, or a nail buffer. Do it gently, and don't forget to hydrate your nails after.