A fishing trip can represent the perfect opportunity to have fun with family and friends. This is true whether you are experienced at fishing, or you are new to the activity. It is a common occurrence to come back from your fishing trip with stories that you will remember for a lifetime.
A big part of being able to enjoy a fishing day to the fullest extent comes down to preparation and making sure that you bring the right equipment for the occasion. Having the right equipment helps to heighten an experience that can leave you with wonderful memories. This is why you should head to Huckberry before you leave for your next big fishing day. You will find all kinds of great equipment that will help you to maximise your fishing fun. We have included some of our top suggestions for products on the Huckberry website that will help to make your big fishing day a success.
When you head to the Huckberry website, you can pick up great equipment like the Tacky Flydrophobic Fly Box from the team at Fishpond. Having a fly box that you can rely on is one of the factors that can help you achieve your perfect day out fishing. This fly box is waterproof, and it has enough space to hold up to one hundred of your favourite flies. The box is designed to keep your flies in place, and its durable construction ensures that it will stand up to the elements that you will encounter when you are out fishing.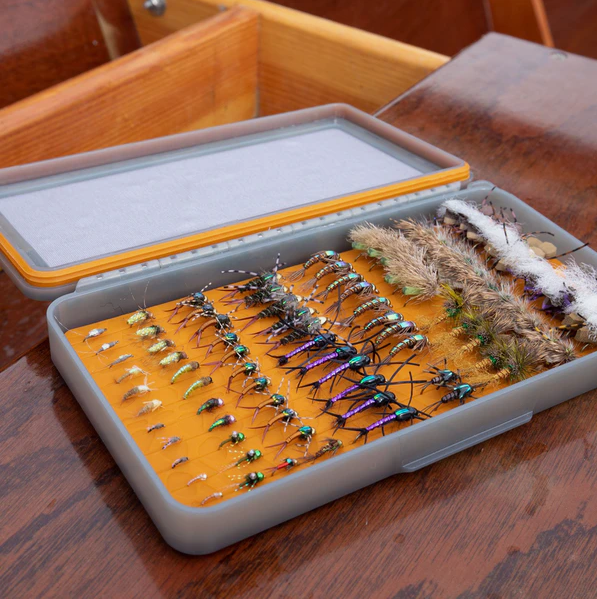 You are going to want to stay well-hydrated while you are out on your big fishing day. You are also going to want those drinks to be cold and refreshing. When you purchase the Hopper M30 from YETI through the Huckberry website, you are getting a cooler that you can count on to keep drinks cold for many days. This convenient hopper is convenient and easy to carry. It can either be carried with its shoulder strap or like a tote bag. This is another one of those pieces of equipment that will add to the enjoyment of your fishing day.
Another way that you can be prepared for your next fishing day is by heading to Huckberry's website to pick up The Solo – Compact First Aid Kit from MyMedic. Being equipped for an emergency first-aid situation should always be a part of your preparation for a fishing day. This convenient kit is designed to ensure that you are equipped to handle the types of first-aid situations that can come upon a day out fishing.
When you are out on a fishing trip, you are going to want a reliable chair that you can count on. To ensure that you are properly equipped, you should consider heading to Huckberry to pick up a Trail Head Camp Chair from YETI. Its lightweight construction makes it easy to pack and carry, and it is designed to hold up over time. This chair also comes with a convenient cup holder and is designed for stability on uneven surfaces.
You will also want to make sure you have a reliable pair of shades for your fishing day. Protecting your eyes from the sun is important when you are out on the water, enjoying time fishing with friends. Huckberry can help you out here with a pair of Huckberry Weekenders. They are manufactured to be durable and have polarised lenses that are ideal for reducing glare and eye strain, among other benefits.