Mexican culture is famous for its rich and vibrant history, its colorful traditions and its unique cuisine with flavors worldwide. In Mexico, you will always find in every corner a surprise, experience or story that will make your trip magical and unforgettable. In Mexico, you will be able to witness all its cultures and traditions alive.
This is where Hotel Xcaret Mexico comes into play. This opened its doors in December 2017 to offer the best of Mexico included. This unique place gathers the essence of Mexican in all its splendor! Hotel Xcaret Mexico is designed to transmit to all its travelers a tribute to the Mayan culture, its artisans, gastronomy, living richness, and cultural heritage. We assure you that you will have an incredible stay in Mexico by choosing Hotel Xcaret Mexico because their hospitality and excellence in their service have granted them several recognitions, among them a 5 Diamond certification.
Discover with us how impressive this place is:
I enjoy an All- Fun Inclusive experience only at Hotel Xcaret Mexico. They have changed the Mexican hotel industry with this incredible concept. Live a trip full of emotions with your loved ones enjoying unlimited access to Xcaret, Xel-Ha, Xplor, Xplor Fuego, Xoximilco, among others. Although, if you are more adventurous with this All-Fun Inclusive concept, you can also enjoy the round trip transportation to the Isla Mujeres Pier by Xcaret in Cancun's Hotel Zone and the ferry ride to Isla Mujeres with Xcaret Xailing.
Besides waking up with a spectacular view of the Caribbean Sea, you can also enjoy and travel through the cuisine of Mexico and the world. Who doesn't like to enjoy a variety of dishes? Imagine being able to order your favorite food and have it cooked by the best chefs in the country! Well, Hotel Xcaret Mexico makes this wish possible. The hotel offers the gastronomic experience of your dreams in one of its 12 restaurants. On your trip, you have to try the Mexican delicacies prepared by renowned Mexican Chefs such as Alejandro Ruiz, Orlando Trejo, Franco Maddalozzo, Miguel Bautista and Luis Arzapalo. Their culinary creations are part of the All-Fun Inclusive concept.
Don't miss out on experiencing the best of Chef Carlos Gaytán, the first Mexican to win a Michelin Star at his restaurant Ha', so captivate your senses with his incredible gastronomy!
Hotel Xcaret Mexico has a spa that follows a tradition that goes back to antiquity, as it combines ancient techniques with the latest products for your skin. Muluk Spa is set in a mystical sanctuary that allows guests to connect with the universe's energy and harmonize their being. This space is perfect and practical when relieving stress or tension, both physical and emotional. The Muluk Spa will allow its visitors to experience the ultimate in relaxation and that holistic connection to nature. In addition, to continue on the path of your well-being, there are other places for activities such as three gyms, paddle tennis and tennis courts, functional training circuit in open spaces, yoga classes, meditation sessions and non-motorized water activities such as paddle boarding and kayaking.
Connect mind and body to achieve your wellbeing, just as our ancestors did!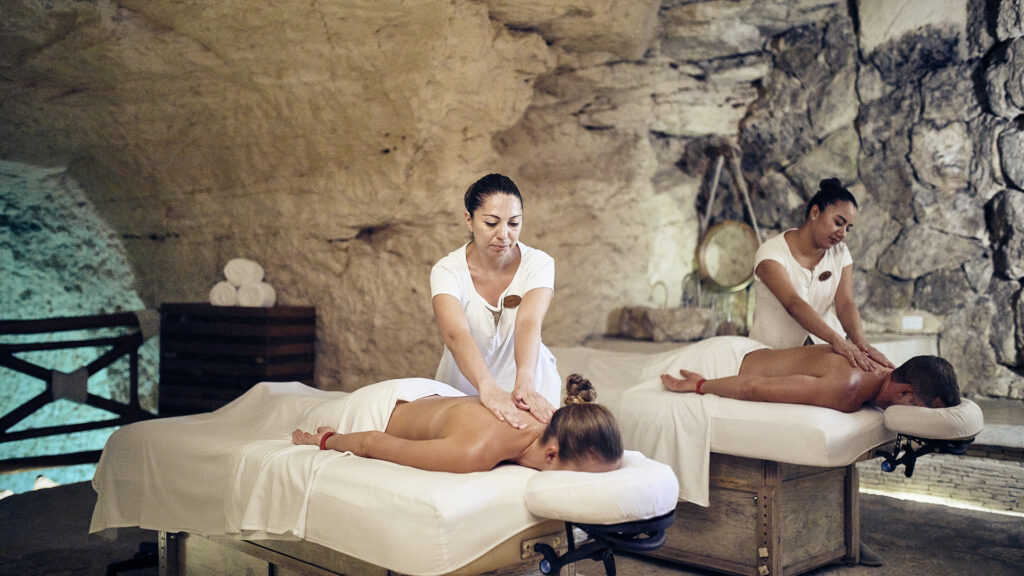 Hotel Xcaret Mexico is ideally located so you can enjoy all the Mexican essence you wish to live. You will be transported back to the days of the Mayans with its ancient ruins, beautiful beaches and glorious sunsets that seem to last forever. We assure you that you will fall in love with Mexico's natural richness and that your vacation will have the best of Mexico included.