Giving flowers is one of the most beautiful traditions in the world. Fresh flowers are known to provide an immediate sense of happiness and positivity. Serenata Flowers have beautiful blooms for Mother's Day that you can buy online. The flowers will be delivered to your mother to show your appreciation for her. A bouquet is a perfect gift because it has the potential to convey many different emotions and messages. As Mother's Day is fast approaching, you should go through their products now and buy one before they sell out.
Spring Skies is a vibrant bouquet full of spring energy with bright and beautiful colours. Serenata Flowers provide a wonderful gift for your mother on this special day. The Spring Skies arrangement has different flowers and will be delivered in bud form so that when it blooms, your mother will be able to enjoy the bouquet for a long time. It contains; blue delphinium, blue freesia, large white roses, salal foliage, and Eucalyptus cinerea. It's a fantastic investment to show your mother just how much you love her.
The orange blooms on this floral arrangement bring out the spirit of a summer sunset. They are freshly picked and provide a wonderful impression that your mother is sure to appreciate. You can buy the bouquet to boost your relationship with your mother or create intimate connections with her on the day. Serenata Flowers contain orange germini, Ruscus, lilies and other flowers to make this arrangement look beautiful in a vase. Fresh flowers are a thoughtful gift for this special occasion and will last for days.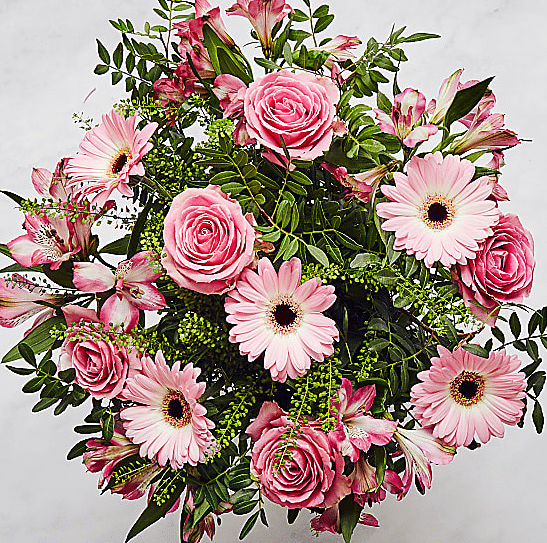 Many people who have purchased this bouquet have nothing but good things to say. It can brighten up a room and boost the general mood of the day. To help you show love to your mother, the Pink Pearls floral arrangement is an excellent choice. The pink roses, germini, and alstroemeria blend perfectly with the green pistachio and greenbell. You can choose the day and time you want the flowers to be delivered. Sometimes the eve of Mother's Day is also ideal for giving your gift; it shows you've been thinking about the special day in advance.
This bouquet is a gem; it will create an unforgettable memory for your mum. It has various flowers in different colours that complement each other to form the most colourful and beautiful arrangement. The bouquet is available at Serenata Flowers: get in touch with them via any of their social media platforms. The flowers will last for a long time after Mother's Day and will continually improve her mood. The exotic white roses and lilies go well with the other flowers in the bouquet and can look very decorative around the house.
The orange, purple and yellow tulips in this floral arrangement simply scream joy and happiness! Nothing will bring a smile to your mother's face more than a colourful Rainbow Tulips bouquet delivered at her doorstep. Their shape is beautiful when in bud form, and when they bloom, whichever state the flowers will be in, they will still look beautiful. It's top-rated on the Serenata Flowers website because it's the perfect gift for many occasions, especially Mother's Day.
Mother's Day is just a few days away. If you are at a crossroads about what gift to get her, any of these bouquets are worth looking at. Use Serenata Flowers to deliver any of the floral arrangements mentioned above as a surprise to your mother. They will be presented beautifully and will help you make the day more special for her.