Finding the right dress for a gender-reveal party can be daunting. You want to have fun, make the best memories and be the shining star of the event. All of this can be difficult to achieve when your body has transformed more than you could have imagined.
Firstly, your weight is off the charts and your dresses aren't doing you any favours, either. They are tight and don't fit properly. Secondly, the pressure on your feet is super uncomfortable, thus limiting your mobility. Lastly, the hormonal imbalance you experience during this period might ruin things for you in a jiffy. Sadly, we don't have the solution to your imbalances, but we do have the perfect outfit for the occasion. Here are five different outfits by InTheStyle that will make sure you slay on the day.
The Dani Dyer Maternity Blush Brushed-Rib Tie-Waist Jumpsuit is a beautiful, classy outfit. It is long, wide and spacious making it very comfortable on the bump. What's more, the waist tie gives the bump an appealing look and the jumpsuit a unique design, with no plainness in sight! Additionally, the neck is super stretchy and can also be worn off-the-shoulder. Finally, the jumpsuit is 95% Polyester and 5% Elastane, making it soft and comfortable on the skin.
The Carys Whittaker Maternity T-Shirt is another gem worth considering. It's casual, can be worn with shorts, skinny denim trousers or even leggings. The shirt has a simple, maternity fit, and is comfortable for everyday wear. It is short-sleeved and wide too, which guarantees you won't feel stifled during your party.
The Dani Dyer Maternity Stone Pephem Sweat Dress is the way to go if you are looking to make a statement. It's comfortable and stylish, with a length that falls just above the knee. It's made mostly of cotton, making it suitable for any season. It's very simple and goes well with boots. Last, but not least, the waist tie gives your bump a striking look.
The Dani Dyer Maternity Black Bodysuit is a lovely piece that you'll certainly want to add to your wardrobe. For instance, it is long-sleeved and made of 95% Polyester and 5% Elastane, making it very warm. This is a top that goes with any outfit, working equally well with wide-leg trousers, jeans, etc. Lastly, it's classy, comfy, and suitable for women who love to dress casually.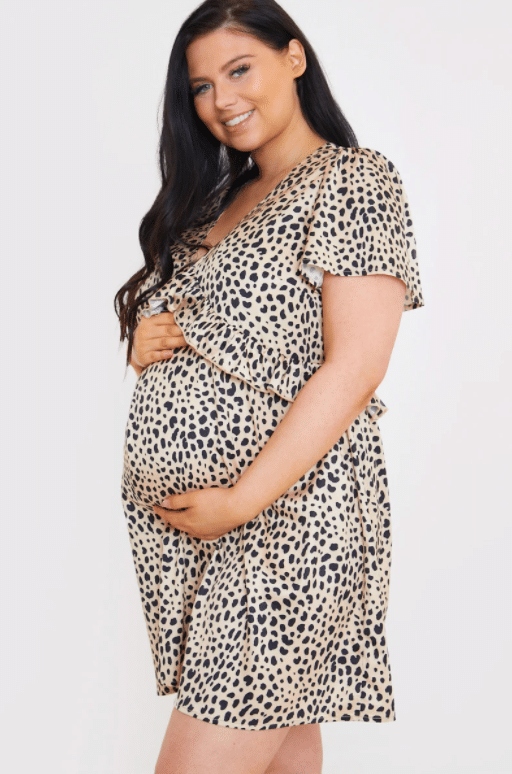 If you want a casual look, then the Carys Whittaker Maternity Stone Leopard Print Skater Dress is the way to go. It's beautiful, features a V-neck, and goes well with sneakers or ankle boots. Furthermore, it hugs the bump beautifully as it's made mostly of Polyester and Elastane. Lastly, it has a stunning leopard print which is very trendy this season.
While a gender-reveal party can be an exciting adventure for new mothers, it also has the potential to go horribly wrong. The success of this day is less about the kind of party you throw and more about your comfort. As such, your comfort during this time is priceless. It'll help you enjoy the day and make some unforgettable memories. That being said, make sure you pick a dress that's not only comfortable but also classy. If you are out of ideas, why not consider one of the outfits listed above by InTheStyle.