It's no secret that food is the way to the heart! If you're looking to show some love to your other half, then inject a serious sugar rush with the most romantic day of the year that you can make with a personalised chocolate gift just for them. Check this picks on Getting Personal:
Don't let lockdown get in the way of love! Send a sweet gift from the heart with a chocolate hug. Personalise with a message like Hugs, Love You or their name. This gift is delivered straight through the letterbox and lasts up to 6 months in the packaging. Your Valentine's Chocolate Hug is prepared from a slab of deliciously creamy Belgian Milk Chocolate, in the shape of a heart, and packed to the brim with chocolatey treats including; Maltesers, KitKat, Cadbury Dairy Milk, Celebrations, Rolos, and truffle-filled hearts wrapped in red foil.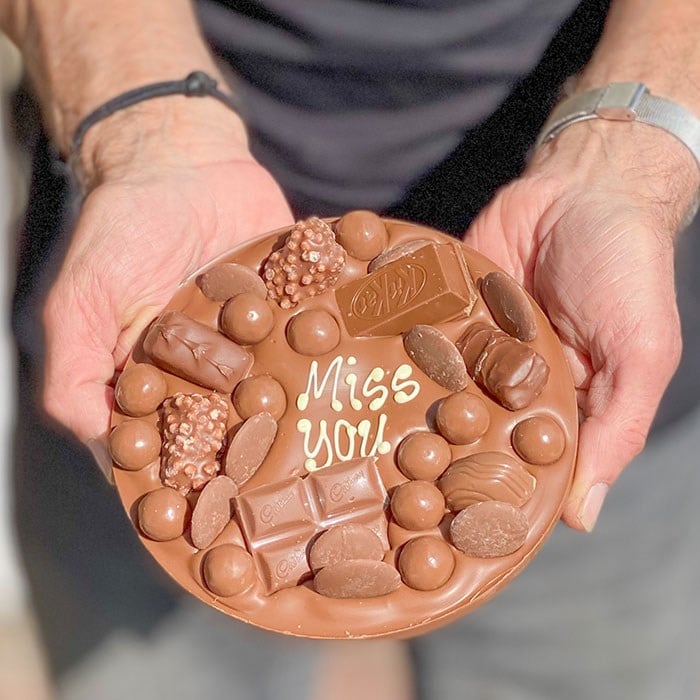 Show someone that your love is truly out of this world, with a box of deliciously creamy milk chocolates. Comprising of 33 tiles, the chocolate spells out the message "Love You to the Moon and Back". You can add a personalised message to the gift box, the more romantic the better!
You can never go wrong with chocolate for Valentine's gift and Cadbury Dairy Milk is a classic favourite they'll love! Getting Personal turn the ordinary into extraordinary gifts and this Valentine's favourites box is just that! Personalise with their name and add a love from the message with your name for a heartfelt touch.
Surprise a chocoholic with our personalised smash heart! Made from Belgian chocolate, the heart-shaped treat features a red marble design and can be personalised with a message in icing. To reveal what's inside, add a wooden spoon to smash open and see even more milk chocolate goodies. It's the perfect Valentine's Day gift for someone you're sweet on!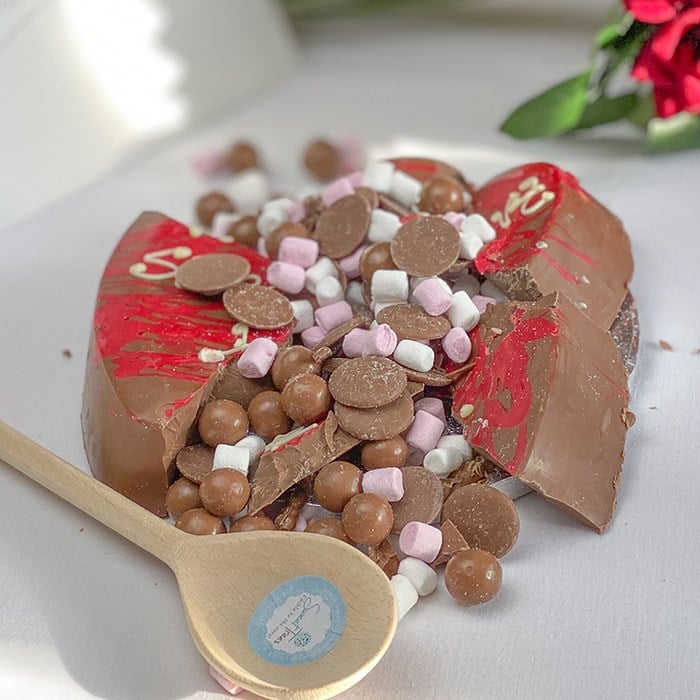 From your heart to their tummy, this adorable box of delectable Belgian chocolates comes wrapped up tight with a personalised sleeve. With space for your favourite photographs and a message to be printed onto the white, pink and red striped design. Personalise the box with a love message of your choice and Getting Personal will turn it into a heartfelt gift this Valentine's Day.
If you're looking to show some love to your other half this Valentine's Day, then inject a serious sugar rush into the most romantic day of the year with this plastic jar jam-packed with retro sweets. Reading 'Happy Valentine's Day' inside the heart, you can have your loved one's name printed along the bottom in a white joined-up font.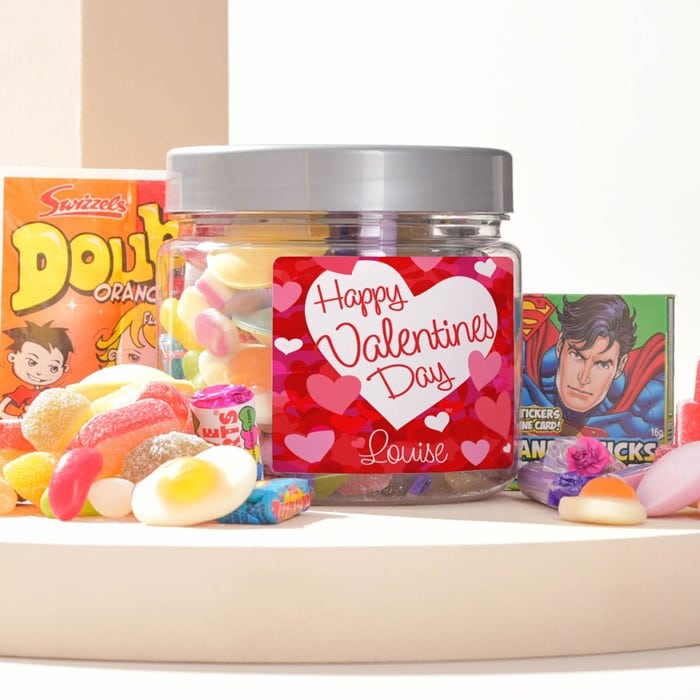 Iconic and delicious! Settle in for a cosy night with your sweetheart, and their very own personalised Toblerone with a matching mug! This limited edition packaging features the name of your choice alongside a fun Valentine's design. The delicious bar is the perfect size for sharing, so you may even get a triangle or two yourself (if you're lucky!). Plus, you can keep the mug long after the chocolate has been finished!
Our personalised sweet jar is a brilliant gift for a vegan this Valentine's Day! It's packed full of vegan and gluten-free sweets, including fizzers, parma violets, drumstick chews, love hearts and lollipops. These sweets have been made with soya replacing the gelatine and make a romantic gift for your vegan Valentine!