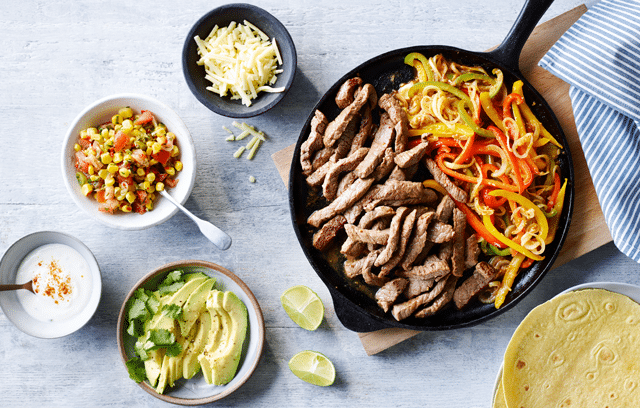 It doesn't take long to prepare a healthy meal, but 15 minutes can seem like a lot of time after a long day. Relying on deliveries isn't always the best option for a balanced diet, so you can improve your eating habits by preparing a meal at home. The challenge for most people is preparing food out of nowhere.
It's no fun preparing the same food over and over again. Most people cook the same dishes for various reasons, mainly because they lack new recipes or time. A time that you actually want to spend with your family, friends, girlfriend or boyfriend, or maybe just to recover from a long day. Coming up with different recipes every time is not something a lot of people find easy – that's where Morrison's comes in, offering a wide range of recipes that can take your kitchen creativity to higher levels.
Morrison's recipes are easy to follow and result in delicious dishes for everyone. You'll have a much more rewarding cooking experience creating your own masterpieces. There are plenty of opportunities to be creative in the kitchen using Morrison's recipes, so consider some of the lists of best recipes for successful cooking.
List of Morrison's Recipes
BBQ Citrus Salmon with Chickpea & Broccoli Rice is straightforward to prepare – you can even get your children to help, making this a fun and family activity. First, you have to preheat the oven to about 180⁰C, then marinate the fish for about 10 minutes, a perfect task for the little ones.
Salmon is full of protein and can be served together with broccoli, rice and light chickpeas. This dish is full of delicious and refreshing flavours, and it's a nice excuse to eat self-cooked vegetables for those who usually don't want to.
This meal can be prepared by anyone with limited kitchen skills and served with lemon wedges. So, if you're in a hurry and or had someone over but have no idea how to proceed inside of your kitchen, then here's an easy solution for you.
For this recipe, it's essential to soak the skewers for about 15 minutes in water if you choose wooden rather than metal skewers, to avoid burning. When grilled, asparagus releases beautiful and rich flavours. The main purpose of the halloumi and mint is to add the extra punch of taste to make the skewers delicious and irresistible. Surprise yourself and others with this fine and uncomplicated recipe!
Are you the kind of person that feels bad when throwing leftovers? Luckily, this is one of those recipes that use up the leftover chicken after roasting. It's essential to follow a gluten-free approach in every recipe. Since not all products are classified as gluten-free, it's important to use standard items and check first with Morrison's GP before using products.
The Chicken and Pesto Open Toasties recipe only requires a few ingredients and takes just 17 minutes to make: 10 minutes preparation and 7 minutes cooking. Do you want to use everything inside of the fridge? Then this is a great and tasty solution!
After a long day at work, you just wish to come home and eat, relax and sleep. But now you have no idea what to do. Fortunately, a practical and delightful answer o this problem is presented to you here! This recipe for a bacon sandwich is suitable for any occasion and takes a total of 15 minutes: 10 minutes cooking and 5 minutes preparation.
When winter comes not much goes on. Especially since you want to stay home with a blanket and not move much, here comes a fast and tasty option for those days when you want to be wrapped in your cacoon. In the search for a nice way to recover and cosy up? This is among the best winter recipes from Morrison's, matches fantastically with a cold, dark drink. This Aubergine and Mince Bake recipe makes a perfect alternative to lasagne and requires a freezer to make it as effective as possible.
The recipe takes 1 hour 20 minutes: 20 minutes preparation and 1-hour cooking.