Your shoe choice determines how comfortable you'll be throughout the day. Given how many are spending more time at home, it's time to discover the best shoes to wear around the house. There are a ton of house shoes with so many textures, materials, and designs to choose from. From slippers to sandals, sneakers, flats, and even crocs, whatever you pick will depend on your needs and personal preferences.
Pavers is an excellent place to buy house shoes that will serve you season after season. You can rely on their shoe offerings to come with classic styles and gorgeous designs, as well as be comfortable and easy to slip on and off. This guide covers some of Pavers' house shoes that won't let your feet down:
Supportive mules are among the most preferred house shoes as they have the ability to provide the best support in the arches while also remaining in style. This pair of wide-fit adjustable sandals comes with a touch-fasten strap for extra adaptability to your feet and to avoid fiddly fastenings. The cross-over design reveals a classic open-toe silhouette that looks stylish. The shoes have a soft leather insole that moulds to your feet and helps keep the feet dry.
This is another supportive sandal that is suitable to wear around the house. It comes with three touch-fastening points that you can adjust to fit the shape of your foot –no more fiddly fastenings! It is made with rich nubuck leather and features padded linings, a lightweight and shock-absorbing sole, as well as a countered insole. All of these will maximise your performance while ensuring multi-fitting comfort.
Nothing feels better against your feet than a pair of cosy full slippers. This particular one is made from a soft check material with memory foam insoles to ensure maximum comfort. These wide-fitting slippers also come with touch-fastening straps, allowing you to tailor the shoe to fit your foot's shape.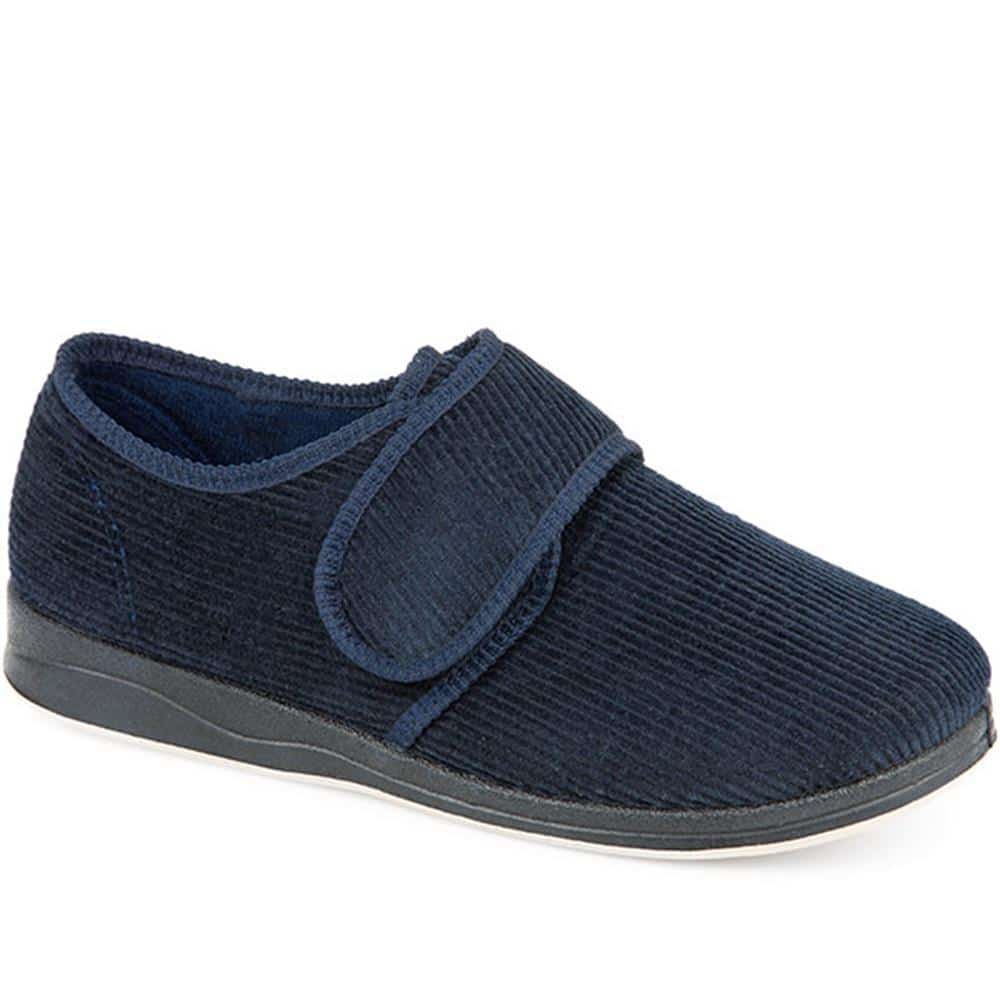 If you want a practical yet stylish house shoe, look no further than these wide fit lightweight slip-on trainers. These shoes are fitted with stretch knit upper and bungee laces that allow you to optimise your fit. Their colourful strip design can be a great addition to your sportswear. They also feature a lightweight, flexible sole and memory foam insole to ensure maximum support for your foot's shape.
This cosy pair of slippers is another excellent option for wearing around the house. The anti-shock insole and stretchy upper provides the ultimate comfort, while the sturdy sole means you can also wear them outdoors.
Pavers is among UK's leading comfort shoe retailers with top-quality branded footwear that offers value for your money. Whether you are working from home or are relaxing after a long day of work, you will look so good and feel comfortable in their wide variety of house shoes.