There is a fine line between looking over-the-top and dressing festive when it comes to partying. While you want to pick the best outfit for a party, too many glitters may turn your look too flashy. Fortunately, there is a simple way to pick the best party outfit while maintaining your party mood.
The shoes you choose to wear to a party greatly influence your entire look. Even with the best dress or stunning short look but the wrong shoes, your look is incomplete. Stylish party shoes complete your party look with a special touch. You can still rock your favourite type of shoes, be it heels or boots, to the party. However, you will have to be a little careful, so you pick the best shoes while maintaining the party mood.
5 women shoes to wear to a party
Stilettos are among the best shoe styles for any celebratory occasion. They complete a classic party look when you are aiming for a polished party look. The trick to rock stilettos to a party is to pick an absolutely festive pair. After all, wearing your office shoes to a party will never win those party style points.
Instead of obvious office stilettos, go for those classic stilettos with an extra twist. At Missguided you can find different types and choose the ones you like the most. Don't miss the opportunity to find those shoes you love more than anything in your wardrobe.By keeping a simple look in a stunning detailed stiletto, you will definitely earn points. Add unique details to your outfit with extra bold makeup, shouting colour stilettos and an elegant party outfit to complete your look.
Not all parties demand an evening look with stilettos. Some call for a stylish, chic look with fashionable party shoes. For such parties, a festive pair of boots are your ideal footwear. Ankle boots with an extra pattern and a matching party dress or shorts will provide a perfect edge.
A youthful and pair of rock-and-roll boots are ideal for that modern party look. Although a plain colour like the Rae bone block heel square toe ankle boot will still complete your party looks, you can choose to be a little extra and still rock. You can go for those animal printed boots or unusual colours and style them with a stunning dress for that party. Jones Bootmaker, your favourite store, has an amazing catalogue of boots, the materials and colours are creative and beautiful, you will fall in love when you see it! Visit their website and buy your next favourite boots now!
Flat ballerinas are still trendy and perfect for a party. If you are not a heel person, then these are perfect for you as they are comfortable enough to rock on that dance floor. Although they may not look so stylish, pairing them with a simple, elegant outfit will make you stand out.
You will be that girl with a cool party vibe. However, be keen on your entire look, so the shoes are in check with everything and don't look out of place. Balance with a unique or laid-back style and keep everything simple.
In Hotter, there are options for Flat ballerinas that fit all styles, visit their website now!
Ankle-wrap sandals will draw eyes to your feet. They stand out when balanced with a fashionable outfit. Besides, they are very comfortable to walk in, so you don't have to struggle on that dance floor. They come in a variety of colours to match your look. At Pavers, you will find an amazing variety of very comfortable sandals, you will buy your new favourite sandals in the store! Visit their website now!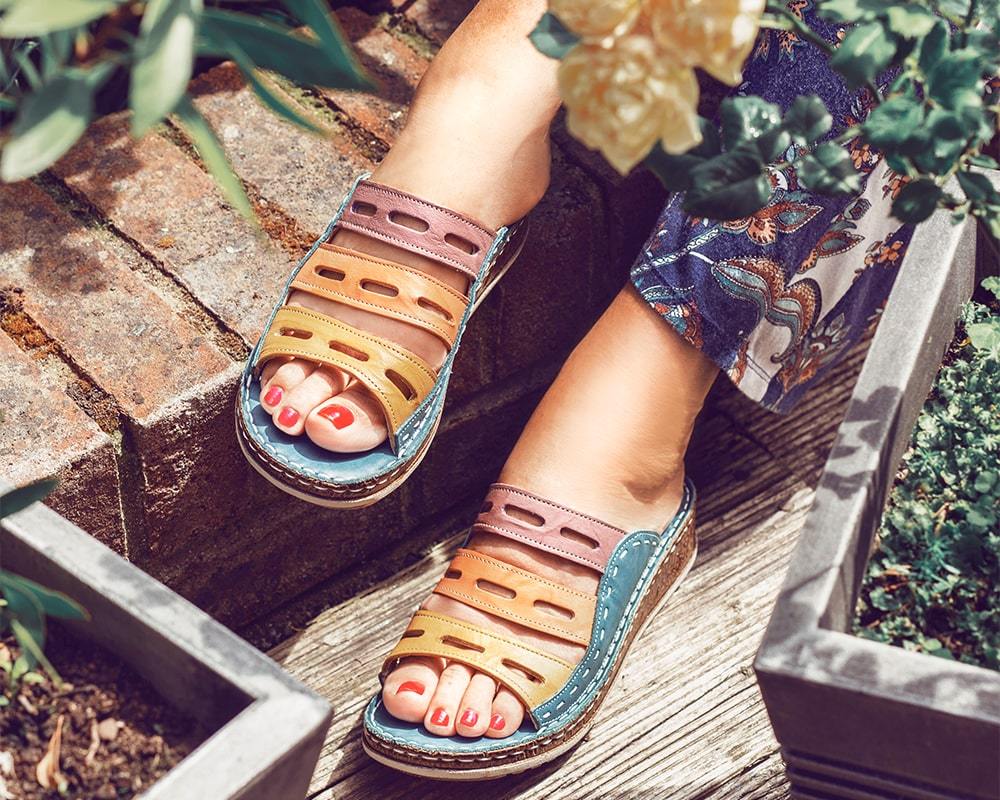 For those who love heels, Wallis got you covered. You can pick your favourite pair of heels from them and rock them to that friend's birthday party. Just like stilettos, be a little extra when selecting party heels. These heels will make you fall in love, visit their website now!